What can we say… we love working at Wedding Pioneer!
That's because we bring you the best and most up-to-date information on planning your wedding. Today, we're discussing your destination wedding at a 5-Star Luxury Included Sandals Resort.
Here's a great question: which Sandals resort is best to get married at?
We've already featured one of Sandals' newest all-inclusive resorts in our Sandals Royal Curacao Review.
And if you want to enjoy scuba diving as a newlywed, we also selected the 11 Best Sandals Resorts for Scuba Diving.
If you're only looking to honeymoon at Sandals and not actually have a wedding at the resort, be sure to check out our Best Sandals Resorts for Honeymoons guide.
But planning a wedding is something else entirely, and at Sandals, your wedding is free with stays of three nights or more!
We know it's always fun to dream about a Sandals getaway, and to make your wedding planning even easier, we focused on your most frequent questions:
How Much Does a Sandals Destination Wedding Cost?
What wedding packages are available at Sandals Resorts?
Do I Need a Travel Planner to Plan My Sandals Destination Wedding?
How much is a wedding in Jamaica?
Are Sandals Resorts Only couples?
We've done the homework, and we've got your answers.
So let's start planning your Sandals destination wedding!
Which Sandals Is Best to Get Married At?
We took a deep dive into researching the best answer for you, and we also referred to the Sandals blog for their expert opinion on the best Sandals to get married at.
The thing is, we also want to cater the best Sandals for your wedding to you. So we have a few simple follow-up questions:
Do you want a simple or more traditional wedding in a chapel?
Do you want to elope on the beach?
Are you having a larger group of guests at your destination wedding?
Do you want the most romantic wedding venue in the Caribbean that can only be found at a Sandals resort?
So as you think about that, keep reading, because any destination wedding is paradise at a Sandals resort!
Heading to the Chapel at Sandals Montego Bay
Did you know that Sandals Montego Bay was the first-ever Sandals?
The resort is legendary in Montego Bay, and it was recently "reimagined" with honeymoon suites featuring your personal butler and your private swim-up entry directly into the resort pool.
Sandals Montego Bay features a new "Weddings Lounge" with your own Bridal Suite.
But one classic feature remains for couples holding their destination wedding here—an intimate wedding chapel that is both traditional and non-denominational.
The resort chapel at Sandals Montego Bay is secluded, surrounded by fountain pools and lush greenery. There are quaint wooden pews inside and an elevated altar, giving you a church wedding in paradise.
Best Sandals for Your Beach Elopement
When we dream about eloping on a beach, it's all about the two of you exchanging vows in the most romantic and carefree setting possible.
Great news! Beachfront elopements are offered at every Sandals resort in the Caribbean, and we have a free vacation planner to help you choose the best Sandals for you!
Wedding Pioneer Travel Tip: the island of Antigua has over 365 white sand beaches, and Sandals Grande Antigua is located on Dickenson Bay, Antigua's best beach. After your beachfront elopement, honeymoon in seclusion in a private butler villa with your own plunge pool!
Best Sandals Resort for a Group Destination Wedding
Some couples want to be surrounded by the whole gang on their wedding day… we're happy if that's you!
There's a saying at Sandals, "The Bigger The Party, The Greater The Perks."
So when you're planning a destination wedding that includes friends and family, Sandals has savings and premium perks for you. The more guests who share your big day in paradise, the merrier!
Check out Wedding Guests for exciting possibilities.
As for your perfect venue for a group destination wedding at Sandals, we selected our two favorites:
The Sky Terrace at Sandals Royal Barbados
Sandals Royal Barbados is home to the Sky Terrace, a semi-private venue available at various times during the day overlooking stunning Dover Beach.
Sky Terrace has the first rooftop pool and bar at any Sandals, and room highlights at Sandals Royal Barbados include Swim-up Suites, Millionaire suites, and Skypool suites that are more breathtaking than you can imagine.
European Garden Wedding
A stunning turquoise sea is always your backdrop at a Sandals resort, and the European garden wedding setting is an elegant venue available at three select Sandals resorts.
Your European garden wedding is held on manicured lawns reflected by serene pools, and your wedding can be relaxed or elaborate—it's up to you!
The European garden venue is available at:
Sandals Emerald Bay in Great Exuma, the Bahamas, is a quick flight from major North American airports. It has 249 room choices across 500 acres, and green fees are included at the Greg Norman-designed golf course.
Sandals Grande Antigua in St. John's, Antigua, offers 373 room choices, including the original Sandals Rondovals, a Love Nest suite with your private pool sanctuary.
Sandals Ochi in Ocho Rios, Jamaica, has been voted the Best Destination Wedding Resort in the Caribbean. There are two sides to paradise here—a group party on the Caribbean Riviera and the Garden of Eden section with a Butler suite for just the two of you.
When you think it can't get better than this… we've got the most spectacular wedding venue in the world for your consideration.
These extraordinary wedding chapels are only available in the South Pacific, the Indian Ocean, or at a few select Sandals resorts in the Caribbean.
Over-the-Water Wedding Chapels at Sandals
"Going to the chapel, and we're gonna get married," may be playing in your head, and when you think about a Caribbean wedding in your private chapel, Sandals resorts takes your dream up a notch.
Four Sandals resorts now exclusively offer an Over-the-Water Serenity Wedding Chapel as an affordable upgrade for your destination wedding. We can confirm this venue is unique and spectacular!
An over-the-water chapel means your wedding is open-air, on a glass floor aisle right over the turquoise ocean. Your chapel is bright white against the sunny blue sky, and you'll gasp at the stunning metallic river stone altar inside.
Over-the-Water Serenity Wedding Chapels are available at these Sandals resorts:
Sandals South Coast is located on Jamaica's more secluded southwest coast. You'll feel like you're in the South Pacific with the longest swim-up pool in the Western Hemisphere by the South Seas Village!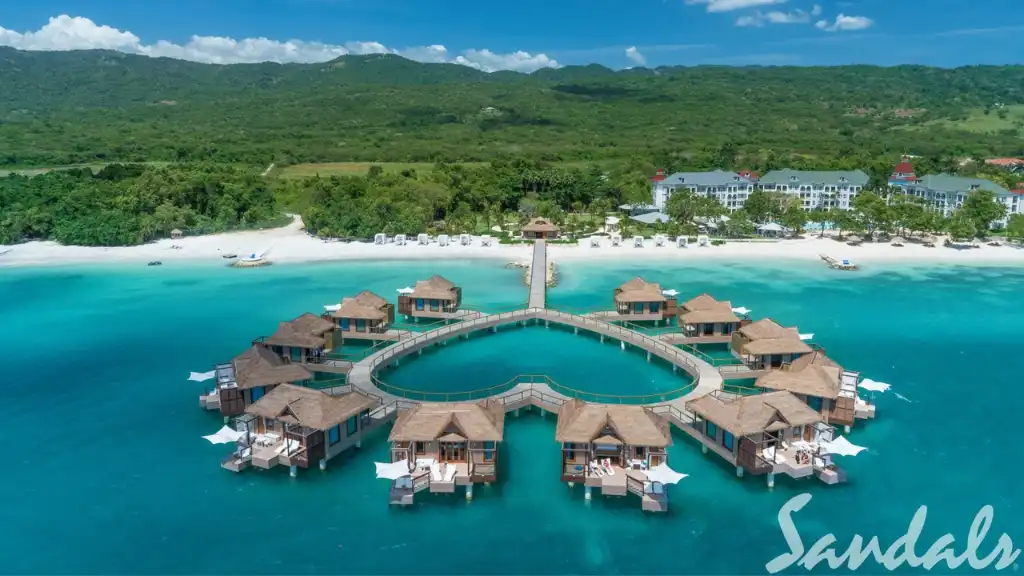 Sandals Grande St. Lucian in Gros Islet, Saint Lucia, has been voted the Caribbean's Leading Honeymoon Resort, making it ideal for your destination wedding! You will also enjoy "Stay at one, Play at three" exchange privileges at all Sandals resorts in St. Lucia.
Sandals Ochi in Ocho Rios, Jamaica, has two spas within a tropical solarium, green fees included at Jamaica's most popular golf course, and the largest rock climbing wall in the Caribbean!
Sandals Montego Bay in Montego Bay, Jamaica. The over-the-water wedding venue makes the newly reimagined Sandals Montego Bay one of our faves!
Now you've got choices of the best Sandals resort for your wedding, let's get down to the nitty-gritty of costs.
The best news is, your Sandals destination wedding can be as laidback or blinged out as you choose!
How Much Does a Sandals Destination Wedding Cost?
Sandals makes it carefree for you to get married at one of their 5 Star Luxury Included resorts!
Answering "how much does a Sandals Destination Wedding Cost?" will depend on various things, but we've got a step-by-step numbered checklist for planning your Sandals destination wedding below.
What Wedding Packages Are Available at Sandals Resorts?
Sandals offers so many choices of wedding venues, customized weddings, and, let's not forget… your free wedding package for stays of three nights or more.
Do I Need a Travel Planner to Plan My Sandals Destination Wedding?
You should say, "I Do!" to your personal wedding planning team because this invaluable service is included with every wedding package at Sandals!
You'll delight in having a personal Sandals wedding planner. They cover every detail, including those confusing and sometimes complicated marriage documents.
How Much Is a Wedding in Jamaica?
Our checklist below will help you to determine the cost of your Sandals destination wedding in Jamaica, and your Sandals wedding planner will provide specific details on your complete wedding package!
You can also click Sandals Resorts and checkmark Jamaica under "By Resort Location" to review costs for all of the properties on one page.
Are Sandals Resorts Only Couples?
Sandals Resorts has an "adults only" policy to create a relaxing atmosphere for all guests. Most adult guests of Sandals are "couples only," but check out Destination Wedding Guest for more information.
Your Checklist to Plan a Sandals Destination Wedding
Check out Sandals Wedding Inclusions to see exactly what your free wedding package includes.
Your Sandals wedding planner will advise on additional costs for your destination wedding, such as government fees that vary between $100 to $400 in Caribbean countries.
You can customize your wedding or choose a theme for your big day. Add-ons begin in the $2,000-3,000 range.
Check Availability shows room categories by month, year, or a specific date. This tab also allows you to cross-check other Sandals resorts in your favorite destination.
A very cool tab to check out is Wedding Offers. This gives you specific information on all the incentives currently offered by Sandals for your destination wedding.
Wedding Pioneer Travel Tip: we LOVE the chance for you and your SO to test-drive your destination wedding at fantastic prices. Click on Test-Drive Your Dream Wedding At Sandals to learn everything!
More Sandals Resort Ideas
Best Sandals Resort For Scuba Diving Couples
Sandals Resorts With The Best Food and Restaurants