Do you and your fiance love scuba diving?
Maybe your S.O. is a big diving fan, but you've never explored the enchanting underwater world.
Scuba diving honeymoons are becoming really popular with divers and non-divers alike. Many scuba lovers want a Sandals honeymoon because scuba diving is always included for certified divers!
But if you or your fiance aren't dive-certified yet, Sandals Resorts also caters to you.
Sandals Resorts specializes in introductory scuba courses for non-certified divers at a reasonable cost.
And if you want to get certified together, the expert dive teams at Sandals are responsible for over 100,000 PADI certifications across their 5-star luxury-included Caribbean resorts!
Diving with your new spouse is a magical way to kick off your marriage. So today, we're answering an important question:
What is the best Sandals Resort for scuba diving?
Let's dive in!
Fantastic Diving Is Offered at All Sandals Resorts
PADI (Professional Association of Diving Instructors®) has voted Sandals Resorts among the Top 5 dive operations in the Western Hemisphere!
With a choice of Sandals Resorts located in the most spectacular countries in the Caribbean, you can find many excellent dive sites near a Sandals resort.
When you want to experience diving together on your honeymoon, it's a good idea to know what you want to get out of your underwater adventure.
We've done the homework for you!
Here are some questions we researched so you can choose the best diving destination for your Sandals honeymoon:
What Caribbean island has the best scuba diving?
Where is the most beautiful place to scuba dive?
Which beach is best for scuba diving?
Which Sandals has the calmest water?
We've got your answers, and after you decide what kind of scuba diving you'd enjoy, this info will make your Sandals honeymoon planning easier.
What Caribbean Island has the Best Scuba Diving?
Sandals has a terrific blog, and they recently updated a post describing the best Sandals resorts for scuba diving in the Caribbean.
While many Caribbean islands offer spectacular dive sites, some islands are better known for the quality of reefs, the amount of sea life, and the choice of dive sites.
Keep reading for the best Sandals Resorts for scuba!
Where Is the Most Beautiful Place to Scuba Dive?
Divers travel worldwide to remote dive sites, from the South Pacific to Southeast Asia and even the Dead Sea. These can be pristine locations, but they often cater to more advanced divers.
On the Sandals blog, five Caribbean islands are listed that offer beautiful scuba diving for all skill levels:
The Bahamas
Curaçao
Grenada
Saint Lucia
Barbados
We found the best Sandals Resorts in these Caribbean countries for scuba diving. So your dream honeymoon can include spectacular underwater adventures!
Check out the links for more information on planning your honeymoon at a Sandals resort.
Sandals Royal Bahamian in The Bahamas
The islands of the Bahamas are famous for outstanding diving.
At Sandals Royal Bahamian, you can experience coral reefs, sea turtles, and tropical fish in a rainbow of colors.
Dive sites have intriguing names like Thunderball Grotto or the Hollywood Bowl, and these waters are home to friendly parrot fish, yellow goatfish, and blue-striped grunts!
Sandals Royal Bahamian is a quick transfer away from Lynden Pindling International Airport, with duty-free shopping and world-class casinos nearby.
You also have exclusive, all-inclusive access to Nassau's only private island, Sandals Barefoot Cay Island & Restaurant.
Plan your dream honeymoon at Sandals Royal Bahamian in The Bahamas.
Sandals Royal Curaçao
If you want a new resort for your dream honeymoon, Sandals Royal Curacao opened in April 2022.
Curaçao is a desert-like island and part of the Kingdom of the Netherlands. Its sister islands are Aruba and Bonaire, called the "ABC Islands."
While sun-worshippers love Curaçao for its dry heat, the stunning diversity of the sea life here is unbelievable.
Divers of all skill levels also favor Curaçao because many of the best dives can be enjoyed directly from the shore.
The resort features Sandals' only Dos Awa Infinity Pool, and the Kurason Island Suites and Awa Seaside Bungalows come with your own Mini Cooper convertible to explore Curaçao!
Plan your dream honeymoon at Sandals Royal Curaçao.
Sandals Grenada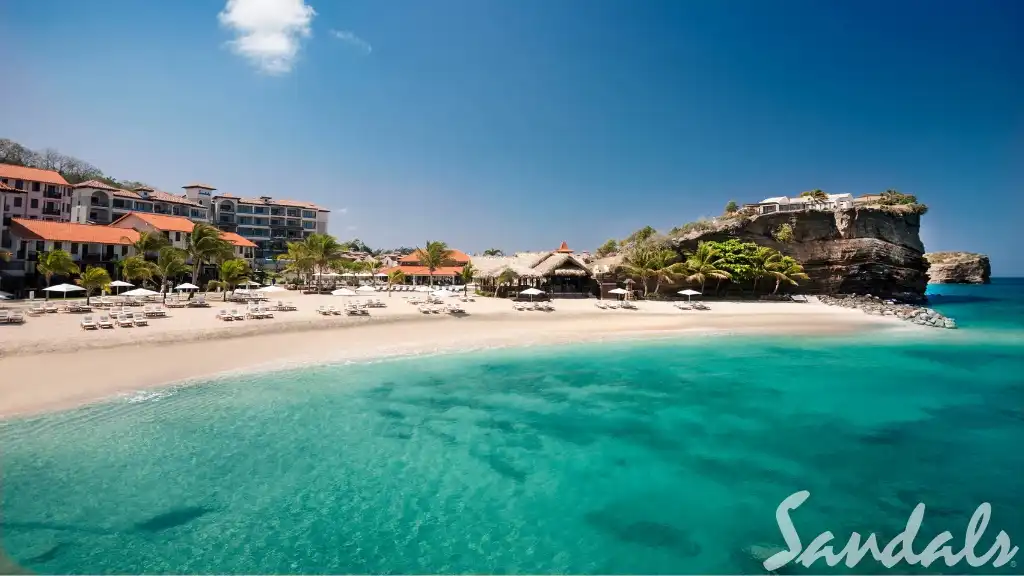 Grenda is romantically called "the Spice Isle," This fragrant jewel in the South Eastern Caribbean is also the wreck diving capital of the Caribbean.
In addition to excellent shipwreck diving, Grenada offers colorful coral reefs in vibrant yellows, oranges, and purples. One of Grenada's healthiest coral reefs is called Purple Rain!
Sandals Grenada Resort & Spa is the most innovative all-inclusive resort in the world, located on breathtaking Pink Gin Beach, only a five-minute drive from Maurice Bishop International.
Airport.
Honeymooners enjoy private butler service in 69 suites, including Skypool Suites with balconies and your infinity-soaking pool in the sky!
Plan your dream honeymoon at Sandals Grenada.
The Sandals Resorts in Saint Lucia
A lush and exotic island, the scenery of Saint Lucia has been featured in many Hollywood movies. You may recognize the Piton mountains from the Pirates of the Caribbean!
You'll see even more incredible sights underwater in Saint Lucia. Dive sites include Fairyland and Keyhole Pinnacle, where you may catch a glimpse of a rare seahorse. See the detailed Sandals Grande St. Lucian review here.
If you're a novice diver, you can have fun spotting tropical fishes like damselfish or spotted drums in under 40ft of water.
Sandals in Saint Lucia offers three premiere resorts: Sandals Halcyon Beach, Sandals Regency La Toc Golf Resort & Spa, and Sandals Grande St. Lucian, the leading honeymoon resort in the Caribbean.
You can play at all three luxury-included properties when you stay at one Sandals resort in Saint Lucia!
Plan your dream honeymoon at Sandals Resorts in Saint Lucia.
The Sandals Resorts in Barbados
Lovers choose Barbados for a laidback, sunny honeymoon. If you crave fun, relaxation, and luxury after the stress of a formal wedding, The Sandals Resorts in Barbados are for you!
Scuba diving is equally relaxed at Sandals in Barbados, and there are numerous dive sites, whether you're certified or new to scuba diving.
Carlisle Bay in Barbados is a top dive site in the Caribbean. This area is home to vibrant colored sea life of all kinds, and you'll be amazed as the underwater world glides by you.
The Sandals Resorts in Barbados are Sandals Barbados and Sandals Royal Barbados, which was voted the best all-inclusive luxury resort in the Caribbean and Bahamas.
When you stay at one Sandals in Barbados, you can play at two!
Plan your dream honeymoon at The Sandals Resorts in Barbados.
Which Beach Is Best for Scuba Diving?
We're heading back to The Bahamas and the secluded Out Islands, with some of the best beaches for scuba diving.
The island of Great Exuma has beautiful, shallow reefs close to shore. In between dives, you'll be amazed by the emerald blue water and powdery sands on the mile-long beach.
Sandals Emerald Bay
There are 17 dive sites close to Sandals Emerald Bay on the island of Great Exuma!
This includes excellent scuba diving for novices at Ocean Bight, a shallow reef system with tiny, colorful tropical fish in waters that average 18ft deep.
Your luxury amenities at Sandals Emerald Bay include a half-acre pool with a glowing firepit and swim-up bar. Pro-golfer Greg Norman designed the golf course here, and there's a genuine British pub to experience a bit of jolly ol' England!
Plan your dream honeymoon at Sandals Emerald Bay on Great Exuma.
Which Sandals Resort Has the Calmest Water?
Many vacationers desire calm tropical waters at a Sandals Resort, whether you want to try scuba diving or you're just looking to float in the warm ocean as newlyweds.
Two Sandals resorts in Jamaica are renowned for calm waters, and both premiere properties include scuba diving as a luxury amenity.
Sandals Negril
This premiere Sandals resort lies on the best and longest stretch of Seven Mile Beach in Negril, and Negril's location on the island of Jamaica offers sheltered sands and clear water.
With dive sites like the Throne Room, Shallow Plane, and the Surprise Reef, novice, advanced, and master-level scuba divers find something to love in Negril's underwater world.
In addition, the dive sites near Sandals Negril are renowned for offering you excellent aquatic photo opportunities!
Honeymooning at Sandals Negril means snoozing together as you sway in a hammock and exploring free-spirited Seven Mile Beach barefoot and hand-in-hand.
Plan your dream honeymoon at Sandals Negril.
Sandals Royal Caribbean
SANDALS Royal Caribbean: Beach Resort In Montego Bay
This luxury all-inclusive resort in Jamaica embraces the refined British heritage with a Georgian-style Great House, manicured gardens with roaming peacocks, authentic British Pub, and afternoon tea traditions.
This magnificent Sandals property is located in Montego Bay, Jamaica.
You'll be dazzled by the regal peacocks roaming through the manicured gardens and an all-inclusive, private off-shore island. It's like two honeymoons in paradise combined!
We found happy Sandals guests raving about the calm waters surrounding Sandals Royal Caribbean. There are three good novice dive sites and six more challenging sites for advanced divers.
Honeymooners love the exclusive, Over-the-Water Bungalows and Villas at Sandals Royal Caribbean. Your private floating sanctuary has a pool and hammock for two!
Plan your dream honeymoon at Sandals Royal Caribbean.
More Sandals Resort Ideas
Best Sandals Resort For A Wedding
Sandals Resorts With The Best Food and Restaurants