When you visit the Sandals website, you'll probably see this announcement:
17 AWARD-WINNING BEACH RESORTS ON THE CARIBBEAN'S BEST BEACHES
That sounds like a mighty tall order! But Sandals strives to deliver 5-Star Luxury-Included service and beautiful beaches at all of their resorts.
Still, you're planning your destination wedding and honeymoon in the Caribbean and probably wondering which Sandals Resort has the best beach.
It's a hard job to do (no, really!), but we've just completed a "best Sandals Resort for the Beach" review for you.
Keep reading because we're answering many important questions you might have, including which Sandals resorts have the best beach.
You'll find out the following:
Which is the best of the Sandals Resorts?
Which Sandals has the calmest water?
Which Sandals Resort has a lazy river?
Are Beaches Resorts part of Sandals?
If you have further questions, it's easy to type anything into the Sandals search engine (click on the magnifying glass in the top right corner).
Get ready to say, "I Do!" to a free tropical wedding at Sandals with the best beach in the Caribbean!
Our Best Sandals Resort for the Beach Review
Spoiler alert: when it comes to any beachfront Sandals resort, the typical thing we hear is, what's not to love about the beach?
So we decided to check out our favorite Sandals properties against travel websites listing the best beaches in the Caribbean.
These Caribbean islands are renowned by travelers for having the best beaches:
Curaçao—this dry, sunny island in the Southern Caribbean is noted for its dramatic desert landscape and fun cultural vibes, with gentle azure waves lapping the shore at Sandals Royal Curaçao.
With that in mind, we reviewed some of our favorite Sandals resorts in these "best Caribbean beach" destinations. So, let's find the best Sandals for you!
Which Is the Best of the Sandals Resorts?
Dreaming about a Caribbean beach usually means an unspoiled image of white sands and electric blue seas.
For beach lovers like you in love, bringing those dreams to life is a big part of your destination wedding and honeymoon. With that in mind, we chose the best Sandals resort with two private beaches.
Sandals Royal Plantation, Ocho Rios, Jamaica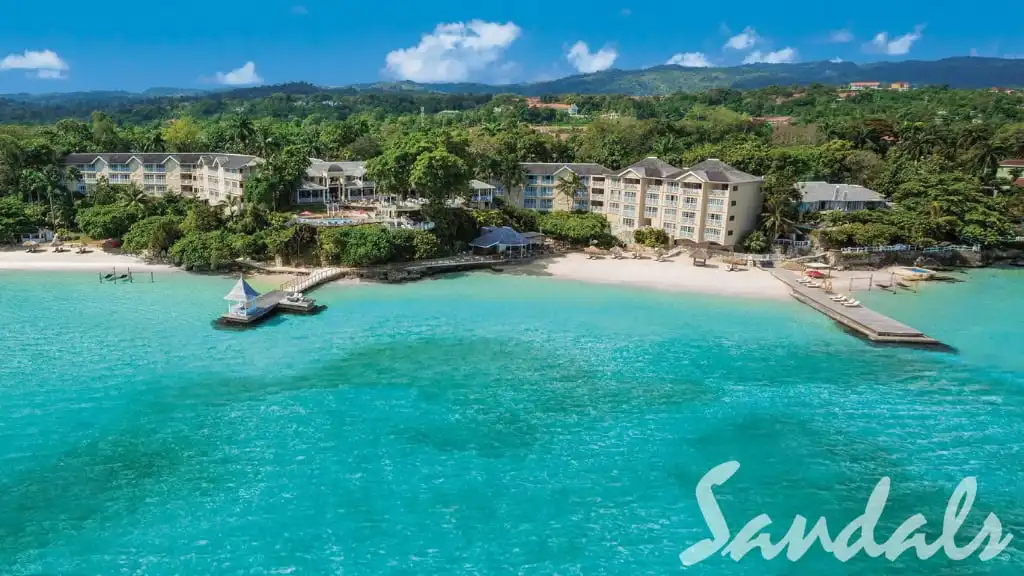 With excellent traveler reviews and this Sandals blog ranking Sandals Royal Plantation as Sandals' "best of the best," you can rest easy knowing your wedding and honeymoon will be 5-star!
Here's why Sandals Royal Plantation tops our list:
an intimate resort with 74 all-suite oceanfront accommodations
24-hour room service from your private butler
delicious food, including French, Mediterranean, and Caribbean restaurants
full exchange privileges with other Sandals resorts, including complimentary transfers to Sandals Ochi.
Sandals Royal Plantation features East Beach and West Beach. While these golden stretches of sand don't go on forever, the hard-working and friendly Sandals team keeps their property and these beautiful beaches immaculate.
Wedding Pioneer Travel Tip: Sandals Royal Plantation is a secluded resort, and there's more of a party atmosphere at Sandals Ochi when you want to go clubbing! One word of warning—smoking is allowed on East Beach, but West Beach is smoke-free at Sandals Royal Plantation.
Sandals South Coast, White House, Jamaica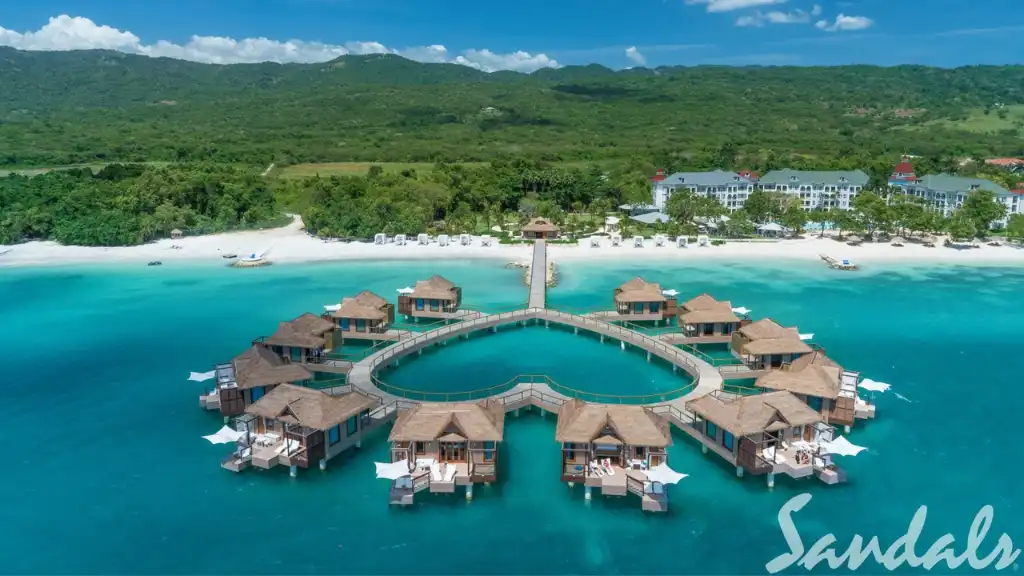 Sandals South Coast is one of the newer Sandals properties in Jamaica on a two-mile-long beach.
It's located in a more secluded part of the island with a smaller local population and a thriving fishing industry—making us think of what "party town" Negril must have been like back in the day!
Here's what makes Sandals South Coast one of the best:
The beach at Sandals South Coast is as naturally beautiful as you'll find in the Caribbean.
Some guests have commented on the amount of seagrass here, but it's a minor tradeoff for the feeling of romantic seclusion. Considering how busy other beaches can get in the area, you won't have a problem securing beach chairs and a nice stretch of sand for yourselves!
Wedding Pioneer Travel Tip: Sandals South Coast is just under 40 miles from Sangster International Airport, and roundtrip transfers are included in an air-conditioned bus, but we recommend an even more comfortable upgrade to private transfers in a luxury BMW!
Sandals Grenada Resort & Spa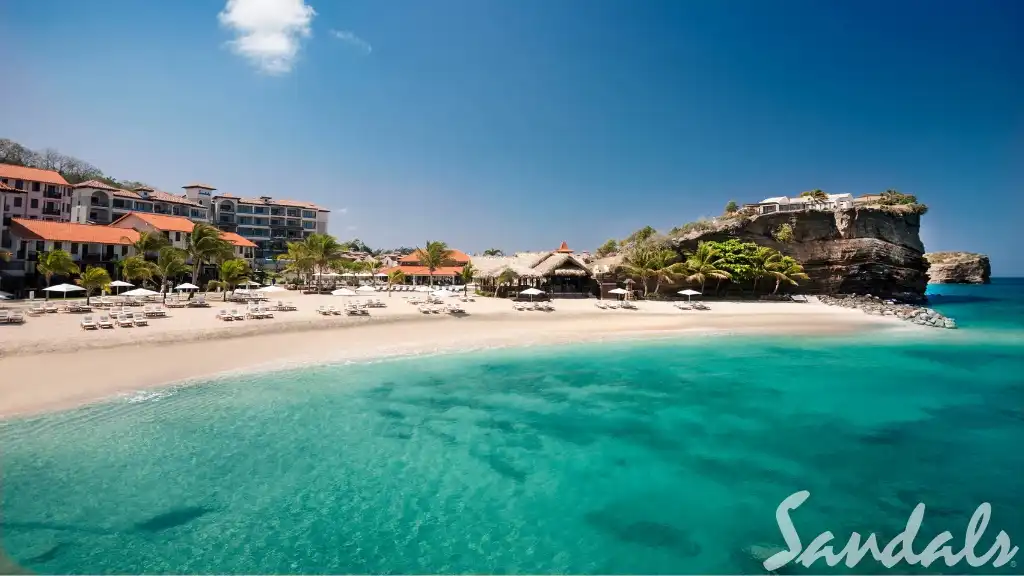 Tourism in Grenada has grown significantly in the last decade for excellent reasons!
Known as the "Spice Isle," Grenada is a South Eastern Caribbean feast for the senses. You can experience it all at Sandals Grenada Resort & Spa, considered an "ultimate resort" in the Sandals collection.
Here's why Sandals Grenada Resort & Spa is extra-special:
a staggering number of private pool accommodations, including Swim-up Suites, Sandals-signature Rondovals, and super-cool Skypool Suites that will take your breath away
butler service personalized for you is offered in 69 suites
12 world-class dining options, including traveler-favorite Butch's Chophouse
Maurice Bishop International Airport is only minutes from Sandals, and roundtrip transfers are always included.
Sandals Grenada is located on stunning Pink Gin Beach, a private and sheltered sanctuary of golden sands and electric blue seas overlooking the lush green hills.
This isn't an extra-long stretch of sand, but in Grenada, you're treated to a wealth of unique beaches, including black-sand La Phare Bleu beach and Sandy Island with its shady coconut trees.
Wedding Pioneer Travel Tip: As we loved writing about in our article 11 Best Sandals Resorts for Scuba Diving in 2023, Sandals Grenada is on our "best of" list for scuba! Travelers also rave about add-on tours like the spectacular Waterfall at Grand Etang Forest.
Sandals Grande St. Lucian
We love the Sandals blog for accurate descriptions of their resorts, and we were impressed that Sandals Grande St. Lucian has an 88% guest satisfaction rating from other 8,000 reviews!
An extraordinary feature of this resort is its location within Pigeon Island National Park. You'll be in awe of the natural beauty and historic ruins to explore together during your honeymoon.
Here's what makes Sandals Grande St. Lucian so grand:
Grande St. Lucian is a flagship resort in the Sandals collection. Many guests say the spectacular beach hugging Rodney Bay is among the most beautiful Caribbean peninsulas, and you should also check out the incomparable Piton mountains.
Sandals Grande St. Lucian also got top marks in our Best Sandals Resorts for Golf in 2023, so if you two want to hit the beach and the greens on your honeymoon, you're in luck!
Wedding Pioneer Travel Tip: although roundtrip transfers are included between the airport and the resort, it takes up to two hours in a van and is generally not a highlight of your trip. We agree with everyone who upgrades to a helicopter transfer—it's a sensational tour of the island from the sky, and your airport transfer only takes 15 minutes to get to Sandals Grande St. Lucian!
Which Sandals Has the Calmest Water?
We love strolling along a sandy beach together, but our favorite part of a Caribbean vacation is always taking a dip in those teal-blue seas!
If you also enjoy watersports like snorkeling or kayaking, you'll be interested in knowing which Sandals resorts have the calmest waters. And make sure to try out the aqua-trikes at Sandals too!
Sandals Grande Antigua
Sandals Grande Antigua has received some pretty distinctive honors, including a World Travel Award for the "Most Romantic Resort in the Caribbean."
But Grande Antigua isn't simply a great destination wedding and honeymoon choice. It's one of the best Sandals resorts for calm water!
And that's really saying something. Because if you didn't already know, the tiny island of Antigua is blessed with a beautiful beach for every day of the year.
That's 365 beaches, and Sandals Grande Antigua is located on Dickenson Bay, considered the island's best beach.
Travel reviewers rate Dickenson Bay Beach highly for nearshore swimming and a shallow, sandy bottom. The turquoise waters are pretty calm and consistent, and Sandals Grande Antigua offers a variety of beachfront suites to suit your budget.
Sandals Royal Caribbean Resort & Private Island, Montego Bay, Jamaica
SANDALS Royal Caribbean: Beach Resort In Montego Bay
This luxury all-inclusive resort in Jamaica embraces the refined British heritage with a Georgian-style Great House, manicured gardens with roaming peacocks, authentic British Pub, and afternoon tea traditions.
Sandals Royal Caribbean is renowned for many exclusive features, including Sandals Cay, a private island for guests to enjoy.
Sandals Cay is also where the Over-the-Water Bungalows gained their fame in the Caribbean!
The beachfront and the island are blessed with calm waters due to a natural offshore reef. You can also enjoy the beach at Sandals Montego Bay with full exchange privileges between Sandals Montego Bay and Royal Caribbean.
Which Sandals Resort has a Lazy River?
It might not be a "lazy river," but the swim-up pool in South Seas Village at Sandals South Coast is the longest in the Western Hemisphere—click on the map and check it out!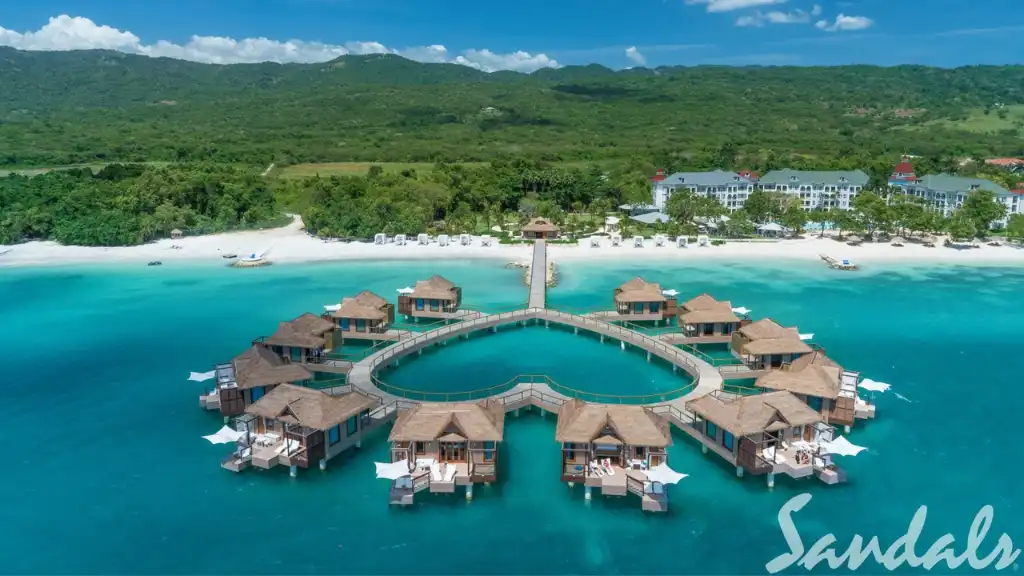 And if your honeymoon heart is longing for a lazy river ride with your new spouse, we're pleased to announce that the brand-new, soon-to-open Sandals Dunn's River has a very special feature…
Two river pools at Sandals Dunn's River will be Sandals' biggest pools! Like gently flowing rivers fed with crisp water from natural streams surrounding the resort.
Are Beaches Resorts Part of Sandals?
Sandals Resorts International (SRI) opened its first Beaches Resort in 1997 for a very family reason!
So many couples who'd gotten married or honeymooned at Sandals were looking for a Sandals-type vacation that could include their kids.
Sandals Resorts listened, and the ultra-successful, family-friendly Beaches Resorts has opened locations in Jamaica and Turks and Caicos. A new Beaches Resort is also in development in St. Vincent and the Grenadines.
More Sandals Resort Ideas
Best Sandals Resort For A Wedding
Sandals Resorts With The Best Food
Best Sandals For Scuba and Snorkeling