Sandals Grenada is in the top two of Best Sandals Resorts, and it's our top pick for the best wedding and honeymoon spot for destination weddings in the Caribbean!
That's why our Sandals Grenada Wedding and Honeymoon Review is for you.
Here's what our review covers:
Resort Overview of Sandals Grenada (why it's the right location for your wedding and honeymoon)
How far is Sandals Grenada from the airport
Best rooms at Sandals Grenada
All Inclusive Food, Activities, and Nightlife at Sandals Grenada
What's Not Included at Sandals Grenada.
We'll also include handy FAQs under each section.
But let's start with the most important topic for our wedding couples!
Destination Wedding at Sandals Grenada—Resort Overview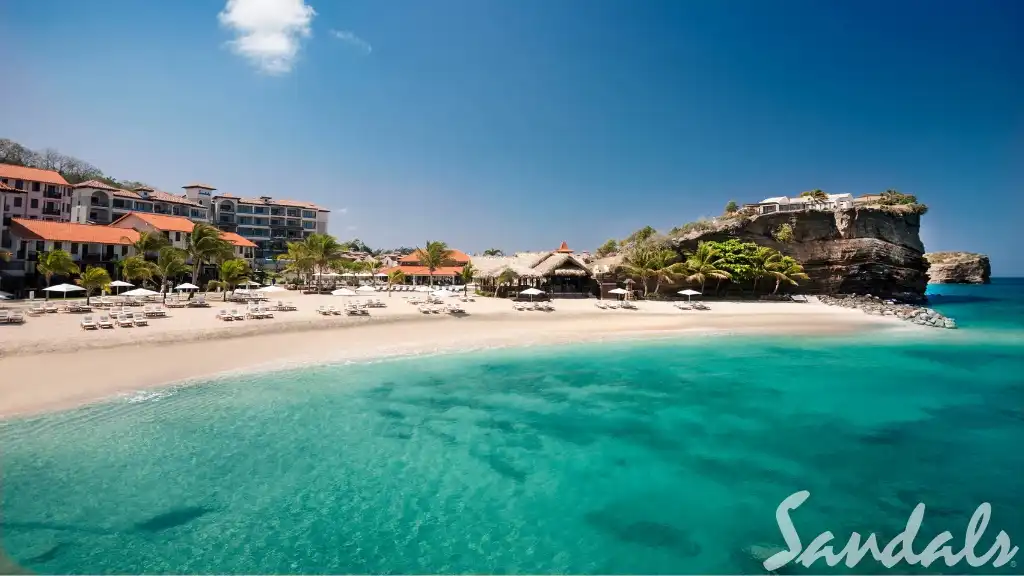 The English-speaking island of Grenada is spectacular because it's a destination for all your five senses.
You'll see amazing blue seas and fiery sunsets, hear native bird songs and steel drums, smell island-grown spices, feel the pink sand between your toes, and perhaps you'll even savor the taste of homemade Grenadian chocolate!
Why is Sandals Grenada Ideal for Your Destination Wedding and Honeymoon?
Sandals Grenada offers 257 rooms and suites, including Skypool suites and Villas with private pool sanctuaries… those image links are a wonderful sight for your eyes!
Your taste buds are in for a treat as well! Sandals Grenada made our list of the Best Sandals Resorts for Foodies with its ten specialty restaurants featuring "5 Star Global Gourmet Cuisine."
And if you're a scuba-diving couple looking for your destination wedding location, check out Best Sandals Resorts for Scuba because Grenada features prominently on that list too.
FAQ: Is Sandals Grenada Adults-Only?
Sandals all-inclusive resorts cater to adults, and Sandals is also the best resort brand for romantic vacations for couples to the Caribbean.
How Far Is Sandals Grenada From the Airport?
Grenada's international airport is approximately five minutes away from Sandals Grenada, and your roundtrip transfers are always included.
FAQ: Is a passport required for travel to Sandals Grenada?
U.S. travelers require a passport for entry into Grenada, although travel visas are unnecessary.
Check out this handy Passport Assistance link offered by Sandals to obtain or renew your passport as quickly as possible.
Planning Your Wedding at Sandals Grenada
Did you know that Sandals offers couples a free tropical wedding with bookings of three nights or more?
You can also customize your elopement at Sandals, and a special honeymoon package is available.
Here are five easy ways to plan your wedding at Sandals Grenada!
1. Choose Your Destination Wedding Decor
The Sandals Weddings link is your jump-off point for selecting a Free Wedding or a Customized Wedding at the Sandals resort of your choice.
Most of our wedding couples decide to customize their destination wedding at Sandals, and you can have fun choosing your personal decor preferences, whether it's a gold inspiration, a royal wedding theme, or a slice of the islands—click on the lookbooks for more.
2. Look Over Catering Menus
Did you put your feet up yet?
Get comfy while you look this over, because countless delicious choices are available for catering your wedding at Sandals!
Click on Wedding Food and Beverage options and look over what's available to you.
Rest assured, the professional chefs at Sandals will make your wishes come true, and your dietary requirements are always honored.
3. Review Your Wedding Venues
Sandals is world-famous for its breathtaking wedding venues, and Sandals Grenada is a stunning natural backdrop for your dream wedding—check out your wedding location on Pink Gin Beach and a glimpse of your open-air reception venue with dreamy ocean views.
4. What About Bridal Beauty, Entertainment, and Making Memories?
Keep Sandals Wedding Inspirations handy because it's your easy reference point for important wedding details, including Hair and Makeup Services, Reception Entertainment, and Photo or Videography (if you're not bringing your favorite destination wedding photographer along on this exciting ride).
5. Have Fun With Your Sandals Wedding Dream Team!
Every Sandals wedding (free or customized) includes a wedding planning team, a wedding website, and a gift registry.
Your wedding planners can advise you on marriage documents and other necessary paperwork. You can also click on 5 Easy Steps for more information.
Click on Get Started to arrange a call with your wedding planner at Sandals Grenada!
FAQ: When is the best time for a destination wedding or honeymoon at Sandals Grenada?
The Sandals blog featured Grenada several years ago, and much of that information still applies to couples planning a destination wedding now and in the future.
Ideally, mid-December to mid-April is the peak travel season. June to November sees an increase in temperatures and rainy weather, but travel discounts may be very appealing if you're following a wedding budget.
The shoulder season of mid-April to late May is another budget-friendly time to consider for your destination wedding or honeymoon. Check out the Best Time to Visit Grenada article from the Sandals blog!
Best Rooms at Sandals Grenada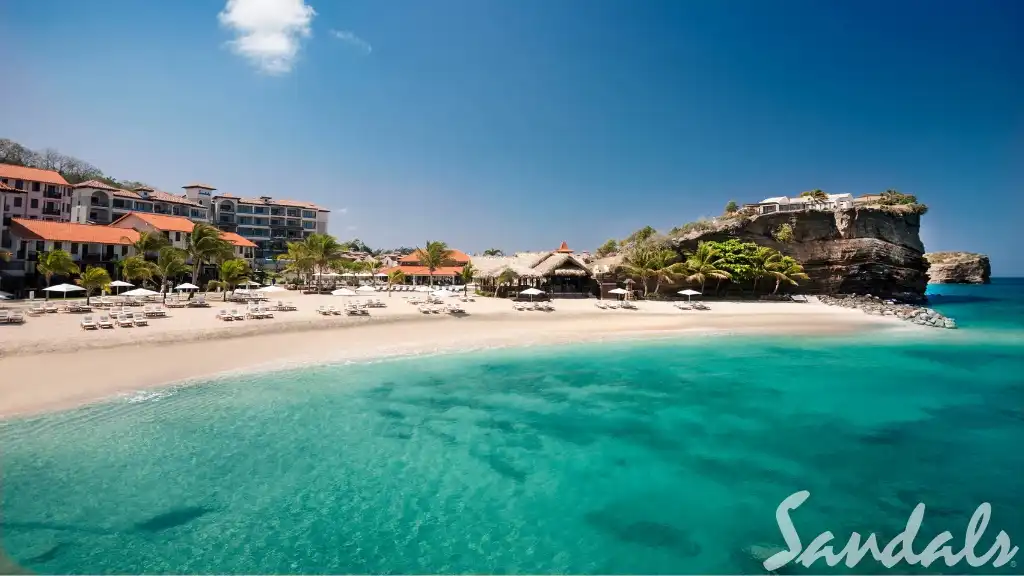 Destination wedding and honeymoon planning is what we do—and Wedding Pioneer always wants to deliver the best for every couple's budget.
Sandals makes it easier to plan by offering categories of rooms and suites to suit your big day and your budget, and we've even reviewed the differences between the accommodations in our Sandals Club Level vs. Regular Rooms.
But if you're okay with blowing the budget on the most fab honeymoon suite at Sandals Grenada… or you're just dreaming about this right now, we'll tell you our favorite Love Nest suites at Sandals Grenada.
The point is, you've got choices, and you can't go wrong with a room or suite at Sandals Grenada.
Wedding Pioneer Travel Tip: Check out Sandals Promotions that can save money, and a pre-wedding getaway for you two to Test Drive Your Wedding at Sandals Grenada for maximum peace of mind—click the link for deets!
Luxury Rooms at Sandals Grenada
At Sandals, the most economical accommodations are still luxury-included. That's why they're called luxury rooms!
This Bird's Eye map of Sandals Grenada will give you a quick visual orientation. Here are our favorite Luxury Rooms for a destination wedding and honeymoon:
Honeymoon Poolside Hideaway Suite
This is a super-romantic and budget-friendly accommodation in the garden and pool-facing South Seas section of Sandals Grenada (the map shows where the South Seas section is).
Your Honeymoon Hideaway suite with a king-sized bed features a walkout to a radial pool that is exclusive to your block of guest rooms. You'll enjoy a walk-in shower and a spacious walk-in closet.
You'll enjoy your private Tranquility Tub for two when you're not floating in the pool!
Rates start at $309 per person per night. Click Honeymoon Poolside for details and more pics.
Pink Gin Beachfront Room
Gorgeous ocean views are within reach of all couples at Sandals Grenada!
Your Pink Gin Beachfront room with luxurious mahogany king-size bed and ivory marble floors features a spa-quality bathroom and a balcony or patio to soak in those heavenly views.
Rates start at $327 per person per night. Click Pink Gin Beachfront for details and more pics.
Club Sandals Suites at Sandals Grenada
At Sandals, Club Level rooms are an upgrade that comes with Sandals Concierge services. It's the perfect blend of pampering and adventure for couples who'd rather explore the resort and Grenada independently and would prefer not to follow a timeline!
Pink Gin Beachfront Honeymoon Club Level Suite
Your Club Level, Beachfront Honeymoon suite, features a dining table on the patio or balcony with expansive views of Pink Gin Beach.
Inside, the living area is open and luxurious, with a king-sized, custom mahogany bed, a plush sofa set, a cocktail table, and a wet bar. You'll appreciate the wall of windows offering stunning beach views.
Rates start at $376 per person per night. Click Pink Gin Honeymoon Club Level Suite for details and more pics.
Pink Gin Beachfront Walkout Club Level Room
Your custom king bed suite is located directly on world-class Pink Gin Beach, and you'll appreciate having a spa-quality bathroom close to your prime tanning location on the sands!
Honeymooners love the private patio with loungers and a soaking tub for two—click the link to see!
Rates start at $392 per person per night. Click Pink Gin Beachfront Walkout for details and more pics of this super-special Club Level room.
Love Nest and Butler Elite Suites at Sandals Grenada
For the truest in newlywed pampering, Sandals offers exclusive accommodations for a once-in-a-lifetime romantic experience.
Many Sandals resorts, including Sandals Grenada, have incorporated their Love Nest and Butler Elite suites into one.
The Butler Elite concept began in 2005 when the family-owned Sandals group developed a training partnership program with the Guild of Professional English Butlers (click the link to learn more!).
Sandals employees who secure the position of Butler are highly skilled and personable team members, and their business is exceeding your dreams on your destination wedding and honeymoon!
There are five categories of Love Nest suites at Sandals Grenada. They're all spectacular, so we'll give you a description, costs, and a link to more information:
Skypool Suites
Sandals Grenada is one of two Sandals resorts that offer Skypool Suites—a master bedroom with glass sliders that open to your own private infinity pool in the sky! There is also a soaking tub for two and a separate living area with stunning ocean views.
Skypool Butler Elite Penthouse is located in the Italian Village section of Sandals Grenada. You'll have the best views of Pink Gin Beach as you float in your private infinity pool at any time of the day or night.
Price starts at $823 per person per night. Click the link for more details!
Skypool Oceanview Butler Elite 1-Bedroom has identical luxury features to the penthouse in the Italian Village, notably your private infinity pool and soaking tub for two.
Oceanview Skypool suites are located on the third, fourth, and fifth floors of the Italian Village.
Price starts at $708 per person per night. Click the suite link for more details!
Rondoval Suites
These impressive and luxurious suites offer a round "conical" ceiling with a height of 20 feet. Sandals Grenada is one of five Sandals resorts that offer these beach views or garden accommodations with private pool sanctuaries.
Your South Seas Grande Rondoval Butler Suite has a custom king-size bed offering direct access to your private zero-entry pool and a whirlpool with a waterfall feature.
Price starts from $652 per person per night. Click the suite link for more details!
Swim-up Suites
Your open-concept master suite has direct access to the crystal lagoon pool at Sandals Grenada—enjoy a refreshing dip before retreating back to your romantic escape.
1-Bedroom Swim-up Suite with Stepdown Living Area offers beautiful views of the Italian Village and modern amenities you two will enjoy.
Your soaking tub for two is surrounded by an airy privacy curtain with a step-down into your spacious parlor with plush seating and a stocked wet bar.
Price starts at $556 per person per night. Click the link for more details!
Private Plunge Pool Villas
Your One-Bedroom South Seas Honeymoon Villa has a Tahitian vibe and all the modern amenities you can expect within the spacious interior.
The most romantic feature is the private outdoor sundeck with your personal plunge pool and whirlpool.
Price starts at $698 per person per night. Click the link for more details!
You can also choose a One-Bedroom South Seas Villa nestled into a lush hillside at Sandals Grenada with a private infinity edge pool on a veranda with comfy loungers.
Price starts at $606 per person per night. Click the suite links for more details about the private pool villas at Sandals Grenada!
FAQ: Which Sandals resorts have Over-the-Water Bungalows?
Over-the-Water accommodations offer the ultimate in romance, and you'd typically have to travel across the world to experience these special suites in remote parts of the South Seas or Indian Ocean.
That is until Sandals introduced Over-the-Water Villas and Bungalows to the Caribbean!
Currently, Over-the-Water villas and bungalows are located at Sandals Grande St. Lucian, Sandals South Coast, and Sandals Royal Caribbean (including the most luxurious Over-the-Water Villa with Private Infinity Pool).
Click each suite link for a full description, photos, and prices!
All Inclusive Restaurants at Sandals Grenada
You have ten restaurant choices at Sandals Grenada offering specialty foods from around the world:
Each link will bring you pictures, sample menus, when the restaurant is open, for what meal(s), the dress code, and if reservations are required.
It's fun to review the restaurant choices and plan what you'll love eating at Sandals Grenada!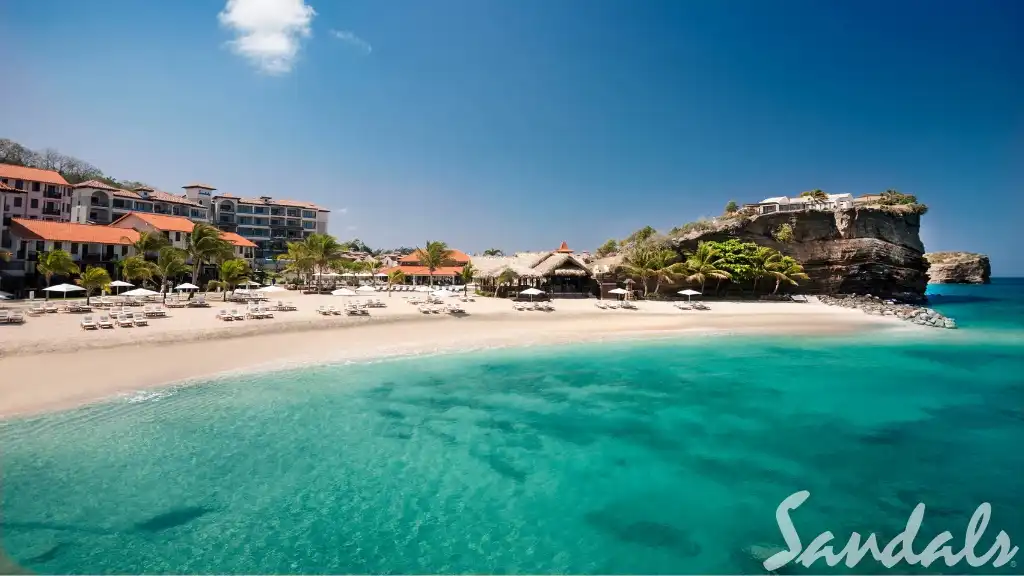 All Inclusive Activities at Sandals Grenada
Hopefully, you'll be into relaxing and enjoying each other on your destination wedding and honeymoon.
Still, you'll never have to worry about running out of stuff to do at Sandals Grenada because there are a ton of activities included!
As we mentioned, scuba is included for certified divers at Sandals—click the link for details.
Here's a handy link to other Sandals watersports that are always included.
If you're more of a toes-in-the-sand and feet-on-the-ground person, check out Sandals Land Sports for everything that's included!
Sandals also offers a modern fitness facility with scheduled, complimentary fitness classes. Click the link for information.
FAQ: Which Sandals resorts feature complimentary golf green fees?
Sandals resorts in Saint Lucia and Great Exuma (The Bahamas) offer complimentary green fees at world-class golf courses, and roundtrip transportation is also included between the course and your Sandals resort.
Complimentary green fees and transportation between your Sandals resort and the golf course are also included at Sandals in Ocho Rios.
Check out our review of Sandals Emerald Bay for Your Golf Honeymoon!
All Inclusive Nightlife at Sandals Grenada
Each Sandals offers a distinctive experience, but you can expect fun and fabulous nightlife at Sandals Grenada, including beach parties, live entertainment, and lively nights at the British Pub!
Click Sandals Entertainment for more information.
What's Not Included at Sandals Grenada
Sandals does offer Vacation Add-Ons, and the link will take you to a booking engine where you can review and select the following:
Other "vacation add-ons" at Sandals Grenada include snuba diving or a private beach cabana. Check the add-ons page for further details, and when in doubt, the Sandals team in Grenada will be pleased to discuss the details with you!
FAQ: What is the tipping policy at Sandals?
One thing that our wedding couples ask about is the tipping policy at Sandals.
We took these Tipping Policy guidelines directly from a March 2022 article on the Sandals blog (author credit: Kylie Morrow):
"Tips and gratuities are included with your Sandals package, with the exception of personal butlers and massage therapists. This means that it is not allowed to tip wait staff, bartenders, concierge staff, the entertainment team, cleaners and other Sandals staff as this would have already been factored in with your booking. If you will be staying in a butler-level room, tips to your butler are allowed and encouraged.
Expert tip: Bring small dollar notes for tipping third-party drivers and excursion guides. Tipping your butler? On average, guests tip their butlers about $20-50 USD per butler per day (your butler team normally consists of two or three butlers), but there is no official maximum or minimum amount. Tipping can be done daily or on the last day of your stay and is appreciated, but never solicited."