Do you want the best service in Jamaica for one of the best times of your life… your destination wedding and honeymoon?
Sandals Royal Plantation is an old-school, all-suite, adults-only resort. Its exceptional and exclusive Butler service receives the highest ratings of Sandals in Jamaica for couples in love.
Royal Plantation is far quieter than its party-vibe sister resort, Sandals Ochi. That could make Royal Plantation ideal for turning your wedding and honeymoon into an unforgettable Jamaican weddingmoon!
To help you decide, check out our Sandals Ochi Review 2023, and remember, you two will get full exchange privileges to enjoy everything at Ochi when you stay nearby at Royal Plantation.
Let's do a virtual check-in at Sandals Royal Plantation in Ocho Rios with your Jamaican wedding in mind!
Wedding Pioneer Travel Tip: you need a passport to get into Jamaica, so click on your Sandals Royal Plantation travel checklist for all the essential things to know before you go! The US government offers travel advisories for Jamaica on the OSAC page, and here's a great Sandals blog of safety tips for you.
Sandals Royal Plantation Resort—Our Current Review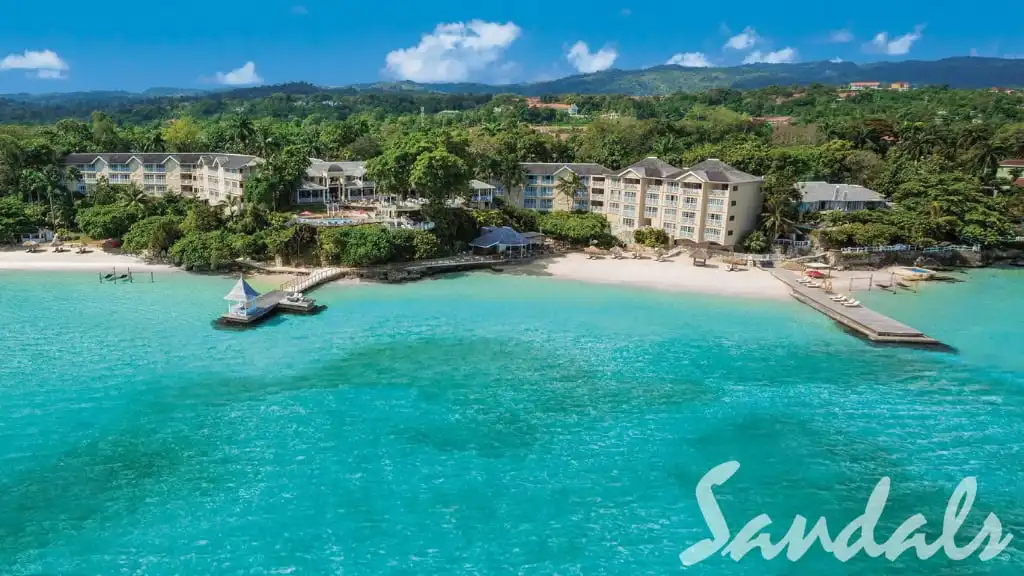 As guests of Royal Plantation, you two get super-special privileges.
You'll enjoy the Sandals Luxury Inclusions here and at nearby Sandals Ochi—but Royal Plantation (we'll call it RP) is only open to RP guests, unlike other Sandals resorts in Jamaica that are open to all Sandals guests.
With 74 oceanview suites—and a spectacular villa with a private pool—RP offers newlyweds a level of seclusion you won't find anywhere else.
Because we're Wedding Pioneer, we're catering this review to wedding couples with planning tips and ways to save on your wedding and honeymoon (also called your Jamaican weddingmoon!) at RP.
But this resort can be enjoyed by any couple planning a getaway, and our review offers info for everyone!
Here are our top six reasons to love Sandals Royal Plantation:
A truly romantic, couples-only beachside boutique property with timeless details like afternoon tea on an elegant terrace overlooking the sea.
East and West Beach are private coves for RP guests, and the electric blue Caribbean sea is your personal backdrop in the Wedding Gazebo.
Green fees included at the Upton Estate Golf & Country Club makes RP one of the Best Sandals Resort for Golf: Our Top 8 For 2023.
After you enjoy the peacocks roaming around the gorgeous manicured gardens at RP, enjoy a fun pub experience together in The Wobbly Peacock.
Friendly and professional Butler Elite service is an outstanding feature at RP, and you'll enjoy the finest newlywed pampering in the world here!
And finally… the C Bar… a Vacation Extra at RP and the first of its kind in Jamaica, so keep reading for more!
Wedding Pioneer Travel Tip: Best Time To Visit Jamaica comes to you from Sandals, and it's helpful when planning your dream wedding at Sandals Royal Plantation. This NOAA link also provides current data on vacation safety during the Atlantic hurricane season.
Our Sandals Royal Plantation review will also explain the following:
Why Butler Suites at RP make all the difference and a direct link to accurate pricing by month.
Our tips to getting the most out of the best restaurants and bars at RP and the Jamaican nightlife you'll enjoy here and next door at Sandals Ochi—our Sandals Ochi Review is a wealth of info too.
All the fun activities that are included in your stay at RP.
Vacation Extras and what's not included (please check out the Ultimate Travel Checklist for useful advice from Sandals regarding tips and gratuities for your fantastic RP butlers, spa employees, and third-party workers like airport transfer drivers and tour operators).
Wedding Pioneer Travel Tip: Sangster International Airport in Montego Bay is approximately 1.5-2 hours each way, and Sandals provides an airport lounge and shuttle transfers included. You can also book a private luxury transfer to Sandals Royal Plantation with snacks, beverages, and WiFi for the two of you.
We've got a lot of beautiful ground to cover for our current review of Sandals Royal Plantation, so let's get into this with the information you're looking for first:
How Much Does It Cost to Get Married at Sandals Royal Plantation?
It's probably the most important question after "Will You Marry Me?"
The best news for wedding couples is that Sandals offers a Free Tropical Wedding when you book three nights or more. If you're getting married and honeymooning at RP for seven nights or more, click Premium Perks because you'll receive some impressive vacation credits!
Click on RP wedding package to see an extensive list of what's included in your Sandals wedding, such as your personal wedding planning team onsite at RP, a customizable wedding website and gift registry, and a cocktail reception after you say "I Do!"
At Sandals, you can customize your wedding with upgrades and design the wedding of your dreams—click the link to explore this option. If you want to invite guests to share in your celebration, there are value-added guest perks and cost-savings too.
When you're ready to start planning, you won't believe how much fun the Sandals wedding planning tool is—just click on 5 Easy Steps to go from wedding dreams to your Jamaican weddingmoon reality!
Wedding Pioneer Travel Tip: Wedding Promotions has special savings on Sandals Royal Plantation weddings—Test Drive Your Wedding is an amazingly inexpensive deal on a pre-wedding trip for two!
Wedding Venue at Sandals Royal Plantation
You'll have the option for a classic beach wedding, a lush garden wedding, or a beautiful oceanview gazebo in which to exchange your vows at Sandals Royal Plantation.
Click on Wedding Gazebo for a sweet sneak peek, then check out our pro guide for looking great in wedding photos!
Wedding Services at Sandals Royal Plantation
Sandals offers premium hair and makeup services onsite to wedding couples who are guests at RP.
Your wedding package at RP also includes a discount on Red Lane Spa treatments so you two can get pampered together as newlyweds!
Does Sandals Royal Plantation have a Wedding Chapel?
If you're dreaming of a traditional, non-denominational wedding chapel for a faith-based service, we recommend Sandals Montego Bay with its beautiful wedding chapel in a private garden setting.
And if you're interested in one of the world's newest and most breathtaking wedding venues—there is also an Over-the-Water Wedding Chapel at Sandals Montego Bay.
Our Sandals Montego Bay review tells you more!
Review of Butler Elite and Love Nest Suites at Sandals Royal Plantation
RP offers a smaller selection of accommodations than you'll find at other Sandals resorts.
The charm here is all-suites luxury starting from $356 per person/per night in a honeymoon oceanfront suite to a three-bedroom Villa Plantana with a private pool starting at just over $1,500 per person/per night—so a price range to suit any wedding budget!
Ahead, we'll describe your room choices with links to stunning pictures and a calendar with full pricing details. Keep those links handy for current room specials too.
It's the Butler Elite service at RP that makes this retro resort a standout. It's a smaller property with wonderful, dedicated staff who love getting to know you and pampering you with these personal touches:
In-room dining for everything from your continental breakfasts in bed to elaborate gourmet meals on your private oceanview walkout.
Honeymoon pampering like flower petals on the bed and a bubble bath drawn for the two of you.
Booking your restaurant reservations at RP and at nearby Sandals Ochi — many personal butlers even escort you to dinner to ensure a timely and stress-free dining experience at both resorts.
Beach butlers offer continual, all-day food and drink service for you two within the private beach coves.
Are There Over-the-Water Bungalows at Sandals Royal Plantation?
Sandals created signature Over-the-Water Bungalows at three select resorts.
So if you're dreaming about a South Seas-inspired honeymoon over the turquoise Caribbean sea, click on Sandals Over-the-Water Bungalows for a breathtaking preview!
Over-the-Water Bungalows are available in Jamaica at Sandals Royal Caribbean and Sandals South Coast.
Wedding Pioneer Travel Tip: Sandals Royal Plantation is laidback but romantic, with classic rooms instead of super-modern ones. If you enjoy a boutique hotel experience emphasizing personal service, your expectations can be exceeded at RP.
Let's peek into a selection of suites at RP:
Villa Plantana
Your private destination wedding villa overlooks East Beach and is equipped with a full staff who are there just for you!
Villa Plantana has its own driveway entrance with a stone walkway leading you to RP's gourmet restaurants and world-class amenities. Three king-sized bedrooms feature their own private patios, and you'll love swimming in your private pool.
Click Villa Plantana for stunning pictures, a full pricing calendar by month, and links to current promotions.
Beachfront West Wing One Bedroom Butler Suites
Suites in the Beachfront West Wing building give you gorgeous views of the resort property and the Caribbean sea. There are several types of accommodations here to suit every budget—we'll tell you everything!
Governor General One Bedroom Butler Suite
Your top-floor suite offers the most majestic sea view, with timeless mahogany furnishings, a spacious living and dining area, and an ensuite bath with a walk-in shower and a Roman tub.
Click Governor General Suite for stunning pictures, a full pricing calendar by month, and links to current promotions.
Imperial One Bedroom Butler Suite
Natural light pours through the large glass doors into this higher-level suite with two walkout balconies and a separate king-sized master bedroom outfitted with luxurious linens.
Click Imperial Suite for stunning pictures, a full pricing calendar by month, and links to current promotions.
Grand Duchess Oceanfront Verandah Butler Suite
Your Grand Duchess suite rests on the lower levels with a spectacular veranda to relish the outdoor beauty. Inside, you two can recline on a plush sofa and easy chairs and relax in a half-canopy mahogany bed.
Click Grand Duchess for stunning pictures, a full pricing calendar by month, and links to current promotions.
Royal Monarch Oceanfront Butler Suite
The Royal Monarch is an airy suite that combines indoor and outdoor luxury through an ornamental French balcony. You'll appreciate the open plan with a signature king bedroom and an intimate dining area.
Click Royal Monarch for stunning pictures, a full pricing calendar by month, and links to current promotions.
Monarch Oceanfront Butler Suite
You're close to West Beach in a Monarch suite, and your living area gets plenty of sun and ocean breezes through the French balcony in this Jamaican hideaway,
Click Monarch Oceanfront for stunning pictures, a full pricing calendar by month, and links to current promotions.
Regent Oceanfront Butler Suite
The Regent Oceanfront suite is a slightly more compact version of the Royal Monarch suite with the same stunning views through your French balcony to be enjoyed from your private dining area.
Click Regent Oceanfront for stunning pictures, a full pricing calendar by month, and links to current promotions.
Beachfront East Wing One Bedroom Butler Suites
Click on the RP Resort Map to see the East Wing section of this intimate property. The East Wing is between Villa Plantana and the West Wing building, ideally located for quick access to private coves and RP's restaurants and amenities.
Royal Oceanfront One Bedroom Butler Suite
Your Royal Oceanfront suite offers the grandest views from the East Wing from a private balcony where you can dine and recline. Enjoy your large marble ensuite bathroom with dual vanities and a lovely Roman tub.
Click Royal Oceanfront for stunning pictures, a full pricing calendar by month, and links to current promotions.
Grand Duke Oceanfront Butler Suite
The Grand Duke suite is set back in the East Wing building, with an expansive sea view and breezes flowing through the glass doors.
Click Grand Duke for stunning pictures, a full pricing calendar by month, and links to current promotions.
Marquis Oceanfront Butler Suite
Marquis Oceanfront suites are located on levels one to three of the East Wing, and these comfortable accommodations are among the most budget-friendly at RP, with the same breathtaking sea views as the top-tier suites!
Click Marquis Oceanfront for stunning pictures, a full pricing calendar by month, and links to current promotions.
Viceroy Honeymoon Oceanfront Butler Suite
Viceroy Honeymoon suites are the most economical accommodations at RP, and this is a lovely and romantic start to your newlywed life for any wedding couple on a budget!
Click Viceroy Honeymoon for stunning pictures, a full pricing calendar by month, and links to current promotions.
Sandals Royal Plantation Restaurant and Bar Review
RP has five world-class restaurants onsite, and the special thing about this Sandals resort is those select dining options are only available to guests like you two at RP.
Your efficient butler can advise you on the restaurant's open times and book reservations for you.
Remember, you also get full exchange privileges to enjoy the restaurants and bars at Sandals Ochi. Our Sandals Ochi Review is your guide to the sister resort—whatever you do together, make sure to get the secret password to enjoy a super-cool night at The Rabbit Hole!
Wedding Pioneer Travel Tip: Sandals FAQs has a fantastic Q&A for "5-Star Global Gourmet Dining." We recommend this for info on dress codes and other beneficial information (like food allergies) to maximize your dining adventures at RP and Sandals Ochi!
Let's look at your restaurant choices at RP!
The Terrace
You'll enjoy delectable breakfasts, lunches, and dinners in this great restaurant with indoor and outdoor seating.
Click on the breakfast menu to see the yummy possibilities—if you're a seafood lover, the lobster and shrimp omelets will amaze you!
Here's the lunch menu, with refreshing items like a spicy roasted pumpkin and chicken salad and a ranch-style chili bowl for plant-based enthusiasts.
Finally, go over the dinner menu and imagine those delicious aromas of grilled white and red meats, seafood, and plant-based options. The bruschetta starter can be prepared with grilled seafood or vegetarian style!
Royal Cafe and Grill
This is your prime beachfront dining location at RP, and you're barely a few steps from the powdery sands with views of Jamaica's Blue Mountains in the distance. Royal Cafe and Grill is open for lunch and dinner.
Click on Royal's lunch menu for signature island items like a reef lobster BLT, and make sure to save room for an Ice Cream Crunch dessert (Blue mountain coffee, vanilla ice cream, coffee liqueur, whipped cream, and toasted almonds… delicious!).
The dinner menu at Royal emphasizes fresh seafood appetizers and entrees like grilled swordfish steak and pan-seared chicken cutlets. The pork, asparagus & root vegetable ragoût is also available as a vegetarian option.
Le Papillon
Jamaica is renowned for its farm-to-table produce, and you'll savor all the flavors in this wonderful French-inspired restaurant with imported velvet wallpaper and opulent furnishings.
You must indulge in the signature cocktail at Le Papillon—L'Aphrodisiaque, a blend of St. Remy VSOP brandy, Cointreau, pineapple and cranberry juice, and Sprite!
Click on Le Papillon's dinner menu to anticipate your meals at this guest favorite restaurant at RP.
Tea Terrace
If you've never experienced afternoon tea time before, be prepared to enjoy a late lunch at Tea Terrace as you sip on black, green, or fruity teas!
Click on the Tea Terrance menu to view the tasty offerings you'll be eating and drinking—may we suggest unique and yummy treats like freshly baked scones and the Pepper Jack & brandy parmesan shortbread?
Wobbly Peacock
You'll enjoy midafternoon to midnight snacks and fine British ales at RP's Wobbly Peacock. There's often live entertainment and an easygoing, enjoyable vibe at this authentic English gastropub.
Click on Wobbly Peacock to see bar food snacks that are definitely way better than average!
Wedding Pioneer Travel Tip: here's a feature we love about Butler Elite service that's included at RP—if you're craving a lunch from any restaurant at RP or Sandals Ochi, just let your beach butler team know… and you'll get your new fave lunch delivered right to your beach chair!
C Bar at Sandals Royal Plantation
One optional bar is available at RP for the ultimate in special occasions… it's the C Bar, the only bar of its kind in Jamaica!
C Bar stands for Champagne and Caviar, tucked in between the Tea Terrace and Wobbly Peacock.
We recommend C Bar for adventurous couples—you can add this champagne and caviar experience to your stay at RP (you have to see how they open your bottle of champagne and present the caviar to believe it!).
Luxury Included Entertainment and Activities at Sandals Royal Plantation
Check Sandals RP Activities for a complete list of water sports, land sports, golf green fees, a state-of-the-art gym, and scuba for certified divers, or click on each individual link to take you right to the activities you want to do.
Wedding Pioneer Travel Tip: RP generally offers a morning snorkel boat tour that's included with your stay, and the staff at the Aqua Center is fantastic, so make sure to check out the included water sports available between RP and Ochi!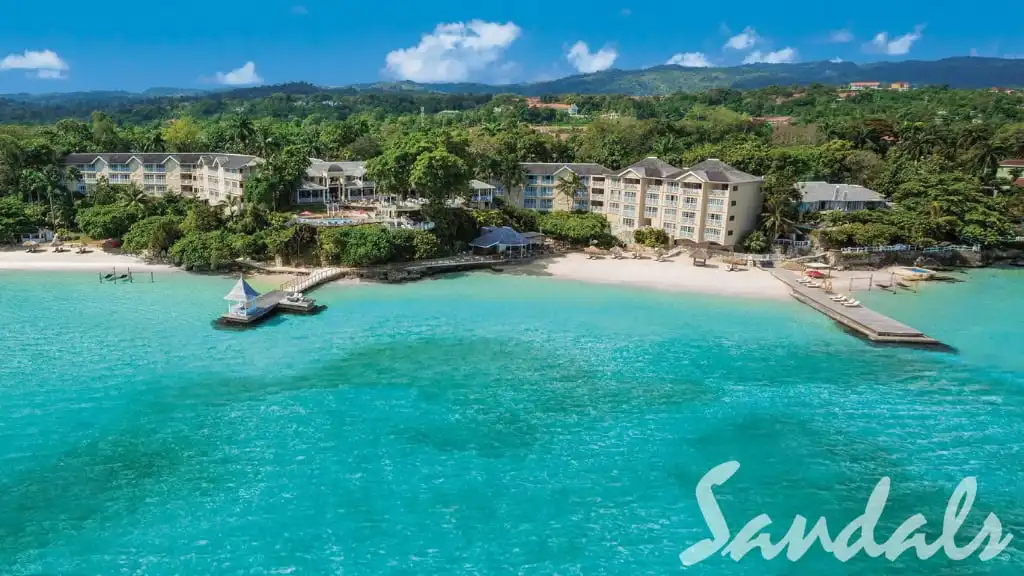 Vacation Extras at Sandals Royal Plantation
Take a moment to scroll down the Sandals RP Activities page. You'll see what activities are "always included" and what "optional" services and tours you can enjoy together at RP and Sandals Ochi.
For tennis players, a fun vacation extra is booking court time with RP's onsite tennis pro!
And if you want to experience scuba together, click on the link for information on a PADI Discover Scuba course, including price details!
It's unforgettable to experience the natural beauty and local vibe of Ocho Rios. You two can check out the world-famous Dunn's River Falls on a waterfall tour or get even more adventurous with a Dunn's Zip, ATV & Horseback Experience.
Wedding Pioneer Travel Tip: a powerboat tour straight from the dock at Sandals Ochi is a travel favorite, and you can even charter a private tour for your weddingmoon group!