Welcome to Wedding Pioneer's review and comparison guide of Sandals Ochi vs. Sandals Royal Plantation!
Right now, you're probably wondering… "what is the best Sandals resort for my Jamaican wedding?"
Our Sandals Royal Plantation vs Ochi comparison can point you toward the best Jamaican resort for your destination wedding, honeymoon, elopement, or Sandals weddingmoon.
Sandals Ochi and Sandals Royal Plantation both share a lot in common, and we'll begin with a list of similarities between these sister resorts.
Sandals Royal Plantation vs Sandals Ochi Overview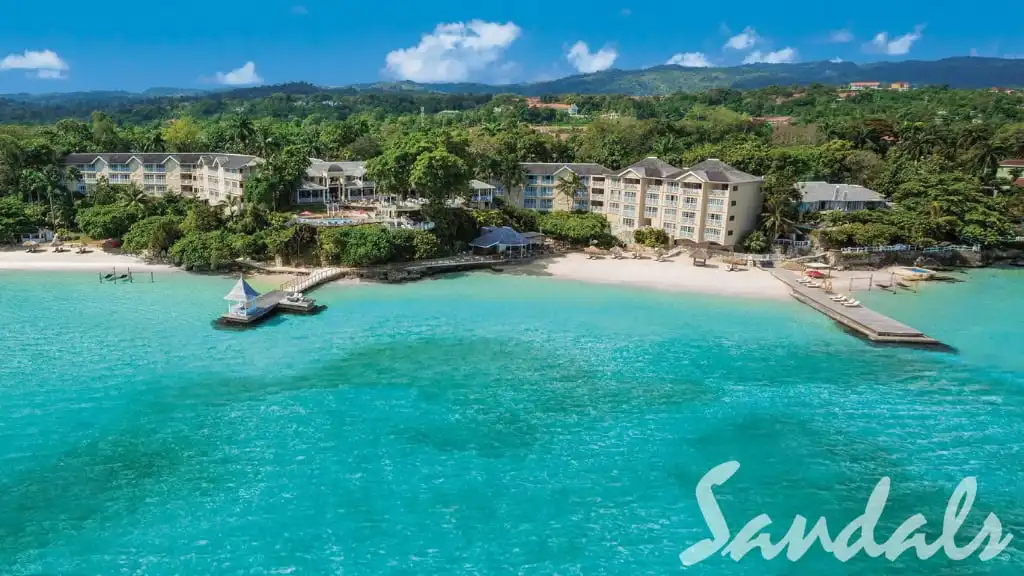 Sandals Royal Plantation and Ochi are located in Ocho Rios, Jamaica. Ocho Rios is a popular tourist area with spectacular sights like the world-famous Dunn's River Falls and bamboo rafting on the White River.
But you're here to plan your wedding first and foremost!
And the truth is Sandals Ochi and Royal Plantation both offer fantastic luxury-included amenities in a Jamaican wedding destination.
As you keep reading, we'll give you a better idea of which resort is best for your wedding day and honeymoon. Once you know, check out the full reviews in our Sandals Royal Plantation Guide and our Sandals Ochi Guide.
Sandals Royal Plantation vs Sandals Ochi Top 5 Things in Common
There are five main similarities between Sandals Royal Plantation and Sandals Ochi, which make either of these Sandals resorts an ideal choice for your wedding.
So let's check them out!
1. Complimentary Airport Transportation
Most guests visiting Jamaica and heading to Sandals resorts in Ocho Rios will travel through Sangster International Airport in Montego Bay. All Sandals guests receive complimentary transfers in shuttle buses for the 90 to 120-minute drive from Montego Bay to Ocho Rios.
Wedding Pioneer Travel Tip: We recommend that wedding couples upgrade to private transfers to Ocho Rios as part of their dream weddingmoon package! You can also check out the possibility of international flights through Ian Fleming International Airport, just a half-hour from Sandals Ochi or Royal Plantation.
2. Resort Location
Sandals Ochi and Sandals Royal Plantation are located just .2 miles from each other in Ocho Rios. Click on each resort name for a birds-eye view and on Main Street to see the resorts on Google maps.
3. Wedding Budget Friendly
Royal Plantation and Ochi both made the list of the Most Affordable Sandals Resorts, which is excellent news for your destination wedding budget!
4. Luxury Included Amenities
As guests of Sandals Royal Plantation or Ochi, you can enjoy 5-star amenities, including scuba for certified divers and green fees at Upton Estate Golf and Country Club.
Wedding Pioneer Travel Tip: Check out the 11 Best Sandals Resorts for Scuba Diving in 2023 and the Best Sandals Resort for Golf: Our Top 8 For 2023.
5. Beautiful Wedding Venues at Sandals Resorts in Ocho Rios
Ochi and Royal Plantation offer gorgeous oceanfront venues for your Jamaican destination wedding. Click on Ochi Chapel, Ochi Gazebo, Ochi Gardens, and Royal Plantation for a glimpse and start dreaming!
Our Royal Plantation Guide and Ochi Guide both have full details on planning your wedding at either resort, so bookmark those links!
Wedding Pioneer Travel Tip: Sandals Ochi features an incredible new wedding venue at Sandals resorts—an Over-the-Water Chapel with glass floor aisles directly over the electric blue sea.
Comparing Sandals Royal Plantation vs Ochi for Your Wedding
We're focusing on what makes either Sandals Ochi or Sandals Royal Plantation your best wedding destination. Because there are significant differences between these sister resorts, what you're looking for may make one resort preferable to the other for your big day.
Here's how the resorts vary:
Size—Sandals Ochi is huge, with 19 different types of accommodations spread widely over the main sections of the resort. Sandals Royal Plantation is among the most intimate resorts in the Sandals family, with just 74 ocean-view suites.
Service—Butler Elite service is available at all Sandals resorts, and we recommend this accommodation category for wedding couples. Still, the exceptional personal service and pampering you get at Sandals Royal Plantation is renowned as being the Caribbean's best.
Dining and Entertainment—Sandals Ochi has a mind-blowing 16 gourmet-quality restaurants onsite and some of the coolest and most unique nightlife in the Caribbean, including The Rabbit Hole Speakeasy. In addition, the Manor Pool and Ochi Beach Club at Sandals Ochi is an all-day party.
Classic rooms—Royal Plantation rooms have that English country house elegance, which is excellent if you enjoy a boutique hotel experience that emphasizes service over super-modern accommodations.
Super-sexy villas—Ochi features a jaw-dropping type of honeymoon suite called the Romeo & Juliet Villa that has a private pool in a walled courtyard between your separate living area and king-sized master bedroom. Just spectacular for newlyweds like you!
Most exclusive—Sandals Royal Plantation takes it for being the most exclusive Sandals resort. When you stay at Royal Plantation, you get full exchange privileges with Ochi next door, but the restaurants and bars at Royal Plantation are only available to guests of that resort.
In summary, Sandals Royal Plantation is quieter, with more elegant dining options. It's ideal for couples who want to get treated like royalty by the outstanding staff at the resort!
Sandals Ochi is great for both spontaneous elopements and larger destination weddings, and you can cater your experience with a personalized menu that reflects the two of you.
Wedding Pioneer Travel Tip: Wedding couples and their guests at both Royal Plantation and Ochi rave about booking private powerboat tours or a sunset catamaran tour for their wedding group. It's a fun way to celebrate your destination wedding in Jamaica!
Sandals Royal Plantation vs Ochi Best Beach Wedding
Sandals Royal Plantation and Ochi may be side-by-side resorts, but the beach areas are separate, and it should be noted that you won't find a super-long stretch of beach on either property.
Ochi has more activity going on in its three distinct beach areas. First, there's a spectacular Over-the-Water Wedding Chapel at Ochi, one of Sandals' newest and most unique venues and only available at a few select Sandals resorts. Click the link for a pic!
If you want a classic Caribbean beachfront wedding, you can plan it at any Sandals resort. But if you're seeking privacy at your wedding ceremony, East and West beach at Royal Plantation are like secret coves for your dream destination wedding on the beach.
Sandals Royal Plantation vs Ochi Best for Wedding Guests
Sandals Ochi scores high on the shortlist of most affordable Sandals resorts—it ranks number one overall as the most affordable Sandals resort in the Caribbean.
Ochi also offers a greater selection of accommodation categories for independent adults who may not need butler service.
The least expensive room at Ochi is a Great House Luxury room starting at $241 per person/per night (rooms are based on double occupancy—click the link for a description and pics).
Do you want to bring a larger group of guests to your Sandals destination wedding? If so, you will receive some impressive guest perks based on the number of rooms booked, and Ochi is an ideal destination resort for larger wedding groups.
Wedding Pioneer Travel Tip: Sandals Ochi has accommodations spread across the Riviera Seaside Village, Riviera Beachfront Tower, Great House Village, and Butler Village. The resort is very hilly, and while transportation is available to guests via 'the Hop,' people with mobility issues may have concerns.
The most special accommodation in Ocho Rios for smaller wedding groups lies within Sandals Royal Plantation. Let's take a peek!
Villa Plantana at Royal Plantation
Royal Plantation is already tops for romance and intimacy… but when your heart desires the ultimate in romantic seclusion for your destination wedding, you must see Villa Plantana to believe it!
Villa Plantana sits just above East Beach, the quieter sandy section of Royal Plantation's beaches. Your home-away-from-home contains three gorgeous king-sized bedrooms, each with its own patio.
The Villa also has a private pool and an exclusive patio for your group with open-air dining within the tropical treed landscaping. Villa Plantana is fully staffed by wonderful employees at Royal Plantation who thrive on delivering 24/7 service excellence for newlyweds and their closest friends and family.
Sandals Royal Plantation vs Ochi Test Drive Your Wedding!
Our full reviews for your Sandals Royal Plantation Guide and Sandals Ochi Guide both contain all the helpful links to plan your wedding at Sandals, as well as other important stuff like passport information, the best time to visit, resort Q&As, and current wedding promotions.
One super-special promotion that is our favorite to recommend is called Test Drive Your Wedding.
Here's what you two can enjoy with this Sandals-exclusive promotion:
You get up to three nights at the Sandals resort of your choice, with rates starting at an extraordinary $275 per couple per night!
Enjoy one-on-one chats with Sandals reps who are experts in planning your wedding.
Check out your possible wedding venues in person, and discuss catering menus, cake options, and wedding decorations.
Explore additional credits towards your Sandals wedding, including perks for wedding guests.
Test Drive Your Wedding isn't just a great way to get familiar with your destination wedding resort; it can be a fun pre-wedding mini-break for the two of you to get away!