Are you one of the millions of wedding couples on a budget?
When your heart desires a free tropical wedding, a honeymoon package, or a customized Jamaican weddingmoon, you deserve it.
Wedding Pioneer is here to help grant your wish!
The best news is this recent Sandals blog ranks Sandals Ochi and Sandals South Coast as number one and two for affordability, so if you're wondering which Sandals resort in Jamaica to go to, you can start right here.
Our Sandals Ochi vs South Coast review and guide will break it down even more. We want to make it that much easier to figure out which adults-only Sandals resort is best for your big day.
For even more value-packed information, check out our recent Sandals South Coast review and our Sandals Ochi review… and rest assured you've made the right decision!
Sandals Ochi vs South Coast Overview
There are more adults-only Sandals resorts in Jamaica than on any other tropical island in the Bahamas and Caribbean.
When you scroll down the link above a bit further, you'll see a map of where Sandals Ochi and Sandals South Coast are located on the island.
How much does it cost to get married at a Sandals resort?
Sandals resorts offer tremendous value to wedding couples with a free tropical wedding or elopement and also the ability to customize your wedding with add-ons that suit your wedding vision and budget.
All Sandals resorts feature luxury-included accommodations, and when you click that link, you'll be impressed with everything you'll enjoy together, including gourmet dining and premium beverages.
Sandals offers couples a wedding planning tool that's free and fun! Click on Plan Your Wedding in 5 Steps.
Wedding Pioneer Travel Tip: Check out this exclusive promotion to Test Drive Your Wedding at unbelievable rates!
A good starting point for determining your wedding budget at Sandals is seeing the price range of accommodations at both resorts.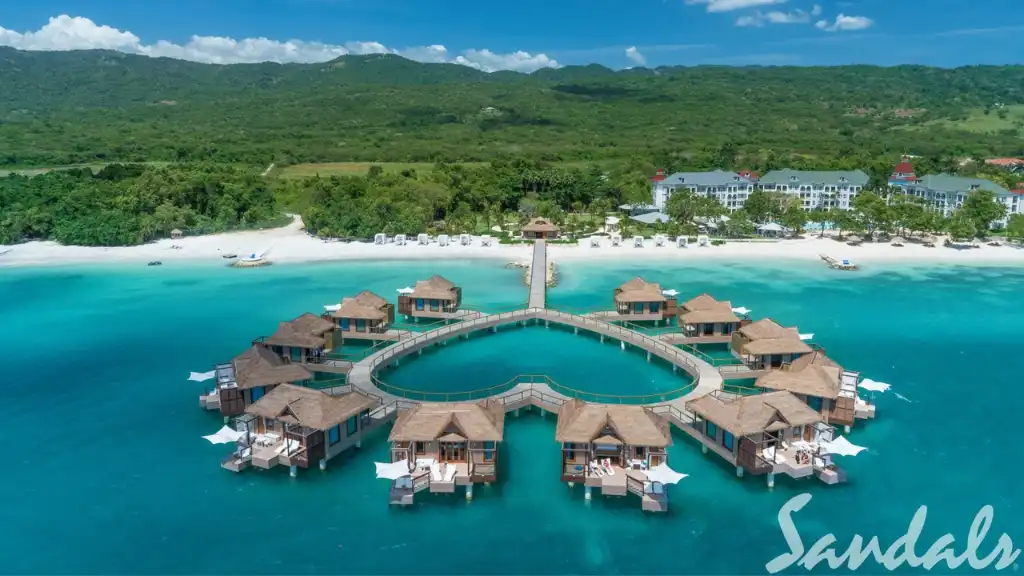 Sandals Ochi Accommodations
Sandals Ochi accommodations range from $231 per person / per night in low season for a Honeymoon Hideaway Luxury Garden Cottage to one of our favorite suites, a romantic, secluded Romeo and Juliet Honeymoon Villa starting at $596 per person / per night. Click the links for stunning pictures and pricing!
Sandals South Coast Accommodations
Sandals South Coast accommodations range from $357 per person / per night in low season for an Italian Honeymoon Beachfront Room to a Sandals-exclusive, Over-the-Water Butler Honeymoon Bungalow starting at $1,628 per person / per night. Click on the links for stunning pictures and pricing!
Wedding Pioneer Travel Tip: We recommend Butler Elite service accommodations for maximum newlywed pampering—and you need to check out the breathtaking Over-the-Water Bungalows that are only available at three Sandals resorts in the Caribbean. Click the links for all the deets!
Besides being the most affordable Sandals resorts, Sandals Ochi and South Coast both offer features that appeal to couples planning a destination wedding or honeymoon.
These features include:
It's helpful to keep our Sandals Ochi vs Sandals South Coast guide handy when planning your wedding or honeymoon.
We always provide direct links to detailed information, including accurate pricing by month and year, and we'll answer common questions that our wedding couples have about Sandals resorts.
Today, you'll learn the following:
Where the Sandals resort is located and the distance from the airport.
Travel information, including passport requirements and safety on and off the resort.
Best time to travel to Jamaica and the best local attractions.
What's the difference between Sandals Ochi vs Sandals South Coast?
What's included and not included at Sandals.
Under each topic, we'll give specifics on Sandals Ochi vs Sandals South Coast and our tips to help you get the best experience. Sound good?
Let's find the best Sandals resort in Jamaica for your wedding and honeymoon!
Where Is the Sandals resort located?
If you view this map of Sandals resorts in Jamaica, you'll see that Sandals Ochi and Sandals South Coast are located on different parts of the island.
Considering that, the travel time is similar to either resort when you fly into Sangster International Airport in Montego Bay.
Of course, complimentary airport transfers are always included, but check out our travel tip for a special add-on to your Sandals wedding adventure!
How far is Sandals Ochi from the airport?
Sandals Ochi is located in Ocho Rios, approximately 90 to 120 minutes from Sangster International Airport, depending on local traffic conditions. The scenic road is paved and mostly flat, and the friendly drivers generally make a stop along the way.
You can also check out the possibility of more international flights currently projected to land at Ian Fleming International Airport, just a half-hour from Sandals Ochi.
How far is Sandals South Coast from the airport?
Based on traffic conditions, Sandals South Coast in White House is about 90 minutes to 120 minutes from Sangster International Airport.
Please be prepared for the drive from the airport to South Coast—the road system on this part of the island is not up to North American standards, and some travelers may experience motion sickness in an airport shuttle bus.
Wedding Pioneer Travel Tip: We recommend that wedding couples upgrade to private luxury airport transfers to Sandals Ochi or Sandals South Coast—click on each resort link for more information!
Travel Information
Sandals provides specific travel checklists for every resort destination, and these direct links are invaluable when you need information at your fingertips.
Your travel checklist will include the following:
passport requirements
check-in times
resort dress codes
what to pack
assistance for physically challenged guests
medical staff at the resort
currency details, and more!
Click on Sandals Ochi Travel Checklist or Sandals South Coast Travel Checklist. It's also a great idea to bookmark these links too.
Wedding Pioneer Travel Tip: The US government offers safe travel guidelines for Jamaica on the OSAC page, and here's a great Sandals blog of safety tips for you.
Best Time to Visit Jamaica
This Best Time To Visit Jamaica blog comes to you from Sandals, and it's helpful when planning your dream wedding at Sandals Ochi or South Coast. This NOAA link also provides current data on vacation safety during the Atlantic hurricane season.
Best Local Attractions at Sandals Ochi
Ocho Rios offers world-famous sights like Dunns River Falls, Blue Mountain Hiking, and the Blue Hole. Click on the links for great adventures to enjoy together, like waterfall climbing, ziplining, and ATVing!
Sandals Ochi is also close to Upton Estate Golf and Country Club, and green fees and transportation are included for Ochi guests. Sandals Ochi made the list of Best Sandals Resort for Golf: Our Top 8 For 2023.
Best Local Attractions at Sandals South Coast
The White House area around South Coast is famously quiet compared to more touristy destinations in Jamaica.
However, you're close to more secret and unspoiled attractions like YS Falls, the Appleton Rum Estate, and deep-sea sport fishing. You can also enjoy the renowned sights in Negril, like Rick's Cafe and the local Craft Market.
What's the difference between Sandals Ochi vs Sandals South Coast?
Sandals Ochi and Sandals South Coast are both larger resorts in terms of size and how the accommodations and amenities are spaced out. Click on the links for a cool bird's eye view and to get a better idea.
Here are the most significant differences between Ochi and South Coast:
Sandals Ochi Is a Party Resort
In fact, Sandals Ochi is consistently among the top-rated party resorts in Jamaica, and the vibe goes on from morning to night.
Lovers can find privacy here, particularly in a Sandals-exclusive Love Nest Suite. When you're traveling with a fun group to your destination wedding, everyone will enjoy popular amenities like the Ochi Beach Club and The Rabbit Hole speakeasy—click the links to watch fun videos!
Sandals South Coast has an Amazing Beach for Strolling
Seclusion works in favor of South Coast when it comes to enjoying the soft powdery beach like you're honeymooning on a deserted island!
South Coast lies on a two-mile-long stretch of sand, unlike Ochi, which has nice but smaller sections of beach. So if you two love beach walks, you'll find your strolls unforgettable here.
Honeymooners rank a romantic candlelight dinner high at Sandals South Coast. Click the link for more details!
Sandals Ochi Has More Pools, Sandals South Coast Offers Swim-up Suites
It's not a typo—Sandals Ochi has 105 pools and 22 whirlpools, with six pools available to all guests including a scuba pool.
The bulk of Ochi's 100+ pools are semi-private pools located in the Butler Village section of the resort.
At Sandals South Coast, you have a great range of Swim-up Suites offering direct access to the resort's river pool as well as a private plunge pool for you two. South Coast offers four main pools and four whirlpools.
5. What's included and Not Included at Sandals
You'll find an accurate list of what activities and amenities are included at Ochi Activities and South Coast activities. As always, the What's Included link offers the most detailed information about everything your stay includes.
One activity is "included" at both Ochi and South Coast, with a few restrictions. Here's what to know!
Scuba Diving at Sandals Resorts
You might read somewhere that scuba diving at Sandals resorts is always included. This is definitely true, but you have to be a certified diver to take advantage of this luxury amenity.
Scuba diving is becoming even more popular, and many wedding couples know the thrill of experiencing the underwater world together during their destination wedding and honeymoon. We even have a great list of the 11 Best Sandals Resorts for Scuba Diving in 2023.
If you're not certified yet, you can still enjoy scuba at Ochi or South Coast! Click the following link for price and time details: new scuba divers.
What's Not Included
Sandals is pleased to offer Vacation Extras, and the link is also a convenient booking tool where you can select and pre-pay for an add-on or upgrade in advance. Your Sandals agent has more information!
Here is a brief list of add-ons that many wedding couples choose:
Red Lane Spa
Sandals resorts have an exclusive spa facility called Red Lane Spa. The link brings you to a dropdown menu where you can choose Ochi or South Coast and see relaxing treatments to choose from.
Wedding couples receive a discount on spa services, and Red Lane also caters hair and makeup packages for wedding couples.
Photo and Video Services
If you're not bringing a destination wedding photographer with you, Sandals offers expert resort photographers and videographers to capture your wedding day for a lifetime.
Click Photo and Video for more information, including a special offer for a free photography session during your stay!
Ultimate Sandals Checklist
Sandals presents this great Ultimate Checklist blog for guests to understand why tipping is allowed for excellent service by your butlers, spa employees, or third-party workers like shuttle or limo drivers—check it out!