Okay. You've got a barn wedding to go to soon, and you're kinda freaking out!
First off, no worries. We did some investigating, and it turns out there are over 40 types of barn venues in North America that are popular choices for weddings. This variety means everything from authentic rustic "down on the farm" locations to super-modern spots in rural settings like full-blown banquet halls.
That's great news because it gives you options on what to wear to a barn wedding, and the invitation may even provide a dress code as a starting point.
We've put together some fun looks for ladies and men to go with different barn venues. We're pretty sure you'll find some inspo to put together the perfect barn wedding outfit.
So let's go shopping!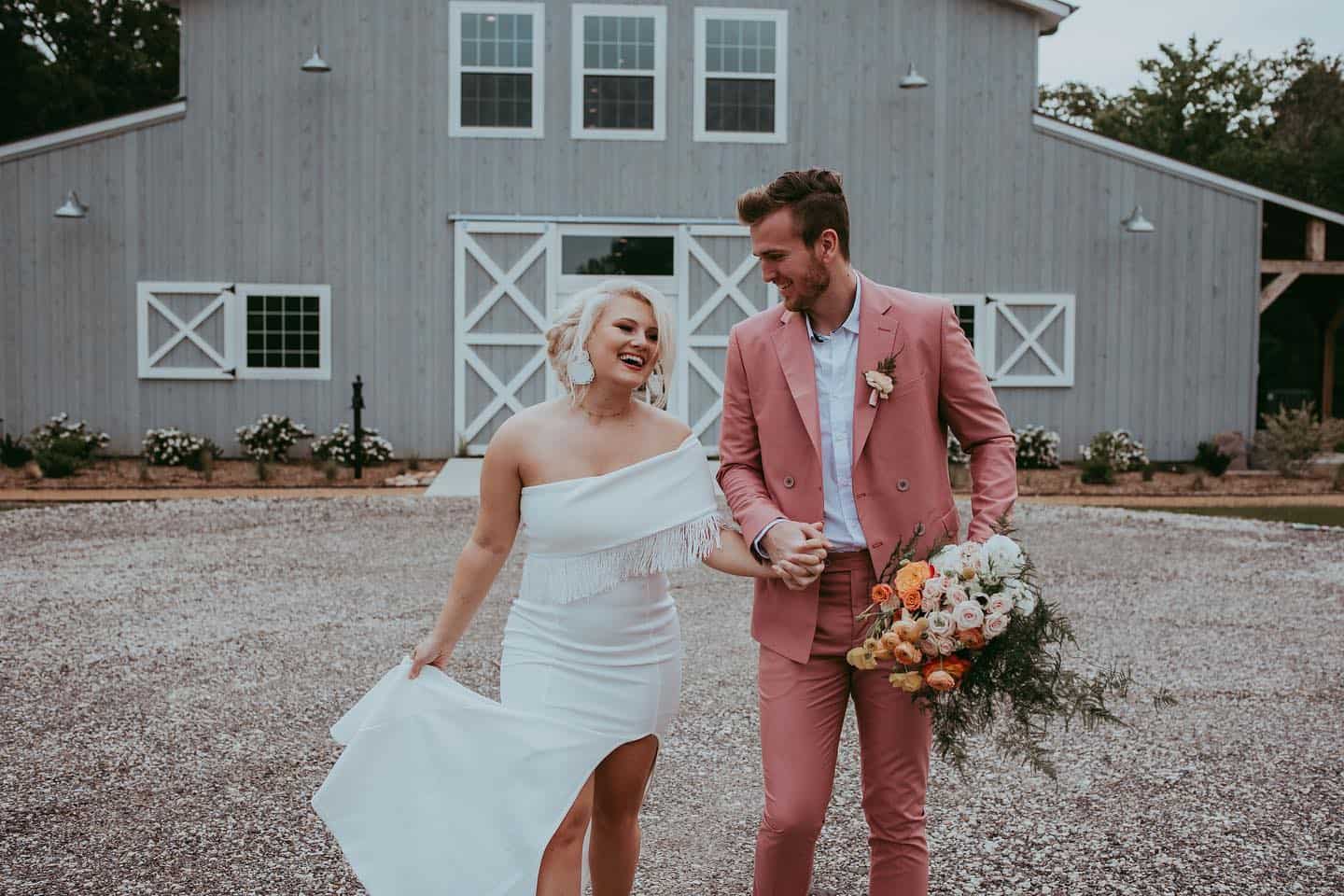 What To Wear to a Barn Wedding: Dress for the Setting and the Season
When most of us think of a barn wedding, we might picture a springtime or summer day on a working ranch in Texas or Oklahoma or a breathtaking mountain farm in the Rockies.
But maybe the barn wedding is at a California vineyard in autumn or lakeside in the Catskills during winter.
The point is, you want to be comfortable dressing for the time of year and the location because barn weddings aren't identical!
Rustic Ranch Wedding Looks
Ranch wedding looks are typically dressy casual, and many people choose something fun over formal.
You'll want to have options with your footwear, including ballet flats, mesh sandals, or cowgirl ankle boots with a low heel!
This lovely linen dress has a boat neckline and a Western-style ruffled hem, and there are 34 other color choices in this universally flattering design.
You don't need to over-accessorize this comfortable dress. It's perfect with complimentary earrings and a light lace bolero if you want some upper arm coverage. 
Bring European flair to a rustic wedding in this Italian-made off-shoulder dress with exquisite puff sleeves.
This look works for everyone, and there is a range of color choices to suit you, like Brown Cappuccino (shown), Cherry Bordeaux, or Clear Blue for those endless Montana skies! This dress is beautiful in every size, and it can be worn loose or belted for more definition.
This handmade, slim-fitting linen suit is available with a vest, but we like the two-piece look for guys going to a ranch wedding. The dusty rose color looks excellent against a majestic, rustic backdrop!
West Coast Vineyard Wedding Looks
We've been to some pretty chic events at country vineyards, but you don't need to overdo your guest attire to make a statement. This dark floral maxi length is a perfect example!
It's a wrap dress available in various sizes, and those flutter sleeves are pure romance. A comfortable low heel and dangly earrings will finish this Wine Country look off beautifully.
In this stunning one-shoulder kaftan with an oversized A-line silhouette, you could tempt Bacchus, the Roman god of wine! You'll feel chic and comfy in this high-quality look with generous sizing and 18 color choices.
While we've dedicated a section below to the mothers of the bride or groom, this beautiful kaftan would definitely suit a proud mom in a vineyard setting.
Cold Weather Styles for a Barn Wedding
You'll want to dress for the elements when you attend a rustic barn wedding in the winter or any time of the year for that matter. Case in point: we've been to a barn wedding in May when a snowstorm broke out!
This long-sleeved tunic dress is a polyester-elastane blend with a subtle sheen. The asymmetrical hemline is such a pretty detail, and the higher V-neckline is easy to accessorize with a choker or a longer pendant necklace.
We like a turtleneck and blazer look for men at any winter wedding, and this fine-knit turtleneck sweater is ideal barn wedding attire for an event that's somewhere between casual and semi-formal in terms of dress code.
Black is a go-to color for most guys, but this particular sweater is also available in burgundy, blue, mustard, khaki, or white so that you can coordinate his look with yours!
Resort Style Barn Wedding
You read that right! More and more innkeepers are opening farm "resorts" across the country and offering destination-quality wedding packages. For these events, dressy resort wear is on point, like this organic cotton dress.
This gorgeous garment is handmade to your specifications, and it comes in many beautiful colors, including watermelon, latte, or lily blue.
If you're concerned about the deep V-neck, a lacy camisole that matches your skin tone is a confidence-boosting accent piece.
A linen men's shirt, made to measure, provides cool comfort and a high-end look over linen trousers and a blazer. He'll love the roll-up sleeves and over 20 color choices, including Woodrose, dark teal, or safari green.
A fedora sun hat serves a dual purpose on a clear, warm day because it offers both sun protection and style.
A well-matched linen shirt, worn loose over trousers, and a fedora is a classy summer wedding look for men.
Mother of the Bride or Groom
As the mother of the bride or groom, your dress choice for a barn wedding will often depend on how glam the wedding party decides to go.
We love the elegant length here and the sequined embroidery for more resort-like settings, mixed with comfortable details like a boat neckline and cap sleeves for comfort.
This ensemble is our favorite look for a mother of the bride or groom. It's a look that works beautifully for any barn wedding and in any weather!
The sheath dress with its pretty beaded neckline is available in any color you choose and in various sizes.
Overtop, you have a lace jacket for a truly sophisticated look, and you'll be at your most comfortable wearing an elegant pair of low wedge shoes.